It's pretty evident that in this day and age, in order to grow, a company's future vision must embrace digital transformation.
The rapid changes experienced within digital transformation are exponential. There are ever evolving methods to innovate, more opportunities to harness data insights and new avenues of customer engagement to name just a few.
Digital innovations are creating opportunities quicker and quicker every day. And businesses in every industry need to utilise technological advances to not only stay competitive but to survive.
In this post, I will look at effective strategies that companies can utilise to say ahead of the curve.
*Approx 10 minute read
Who Is This Post For?
Local business owners small to large
Multi-unit brands such as franchise groups, dealer networks and national brands with a local presence.
Any brand, whether you're just starting in your digital journey or you're advanced, this post is for you.
Commonly Asked Questions that I will Address:
What is digital transformation
Why digital transformation is essential for business growth
Why role does strategy play in digital transformation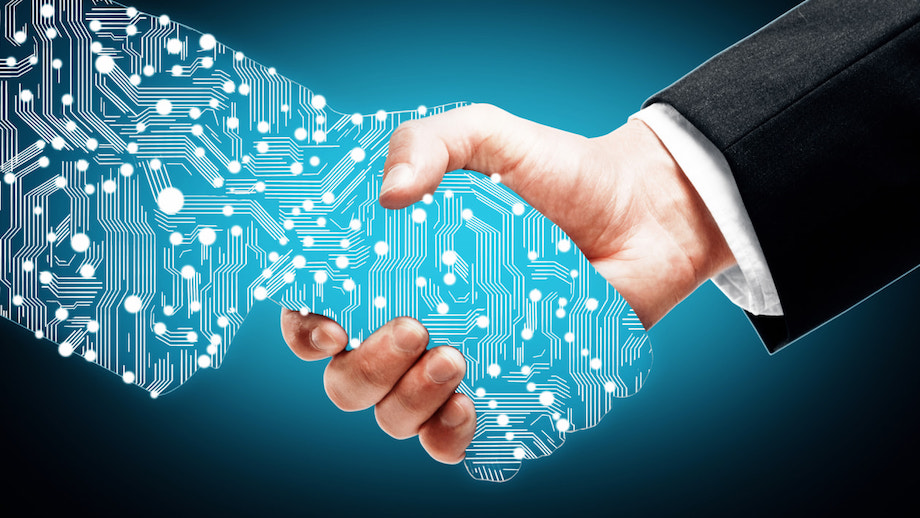 What Is It All About?
Digital Transformation is "the transformation of business by revamping the business strategy or digital strategy, models, operations, products, marketing approach, objectives etc., by adopting digital technologies. This accelerates sales and growth of the business from end to end."
According to Cisco, by 2121, there will be 27.1 billion networked devices, up from 17.1 billion in 2016. 43% of all the networked devices will be mobile-connected.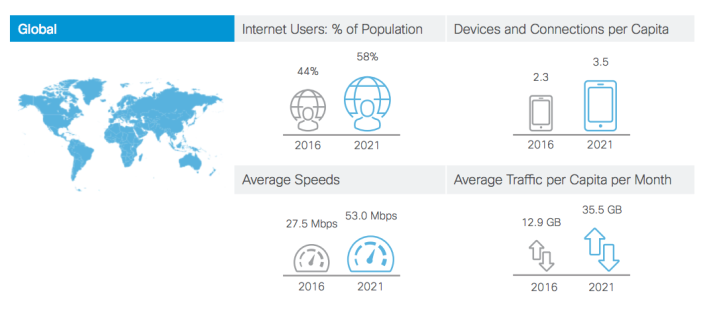 Source: Cisco
This process is fast becoming a competitive necessity for many businesses. Hefty and fast-moving technological advances coupled with swift market and competition changes and growing customer expectations are intensifying the need for companies to evaluate their business models, internal capabilities, and customer experiences.
The larger the business, the more challenging the transition into digital will be as there are many more processes that are affected. Digital transformation is no walk in the park, it demands sizeable ideas, brave actions and most importantly – the change in the company culture. Whilst technological advances are widely accepted and somewhat understood, however often the cultural changes that are necessary to make digital transformations successful are snubbed.
Michael Gale, a recognised industry expert in integrated technology marketing said  "… this is a fundamental shift in how people had to think about how they interact, how they collaborate and work and if you don't spend time changing people's behaviours, you don't spend time changing culture and how people make decisions, all of this falls flat."
That is one of the main reasons why 84% of companies fail at digital transformation.
Digital transformation can also provide insight on a much wider scale such as:
Opportunities to examine business operations
Organisational structure
Operating model
Products and services
Why is digital transformation essential for business growth?
Competitive Advantage
Digital transformation presents a huge opportunity to establish your business' competitive advantage.
With the rapid rise of digital technology comes the removal of geographic barriers and thus opening up large new markets for any business willing to welcome the opportunities.
Effective Employees
Businesses are looking for different ways to develop productivity improvements, with digital technology playing an important part in aiding workers to become more effective in their predominant jobs.
Digital transformation has the power to produce significant opportunities for essential business functions, such as HR and finance. Furthermore, it allows leaders to remove manual processes and instead automate key business areas.
User Experience
Within a digitally transformed business, each consumer interaction is a key opportunity to gain insights and information about what is working and what is not.
There are many ways to gather customer information, such as through a company app, a website visit or an automated phone call. Digital has solidified itself at the heart of the customer's experience with a particular brand. Subsequently, that experience must be enjoyable, smooth, responsive and efficient – if it isn't, the customer will abandon the experience in a flash.
Improve Business Strategy
Digital transformation will allow businesses to better understand their customers and competitors, which in turn can be used to refine business strategy. This is done by utilising the internet to monitor the market as well as competitors, and then reporting the impact on customer feedback, sales, networking and advertising opportunities.
Improve Branding and Presence
In this digital age, it is essential to maintain a web presence. Whilst the vast majority of businesses already have a website, it is hard to believe that some are still lacking in the arena. With so many website development companies in the market, website development and maintenance costs have significantly reduced.
Additionally, businesses can use free tools such as Google My Business, Facebook and LinkedIn to establish an online presence and connect with customers.
Digital Transformation and Strategy
As a result of today's intense technological environment, almost every business is a digital business to some extent. Outdated approaches and procedures must be constantly evaluated, and new technologies have to be installed in order for businesses to remain competitive.
Strategy supports the company structure that is necessary to effectively implement the digital tools available.
According to a 2017 survey on digital transformation by Constellation Research, 64% of respondents said a digital transformation strategy was essential to driving profits, 70% said they had an IoT (Internet of Things) strategy, and a whopping 75% said they have a Big Data strategy.
In 2017, retail e-commerce sales worldwide amounted to 2.3 trillion US dollars and e-retail revenues are projected to grow to 4.88 trillion US dollars in 2021. The opportunities in this industry are abundant and businesses that have an effective digital strategy are capitalising substantially.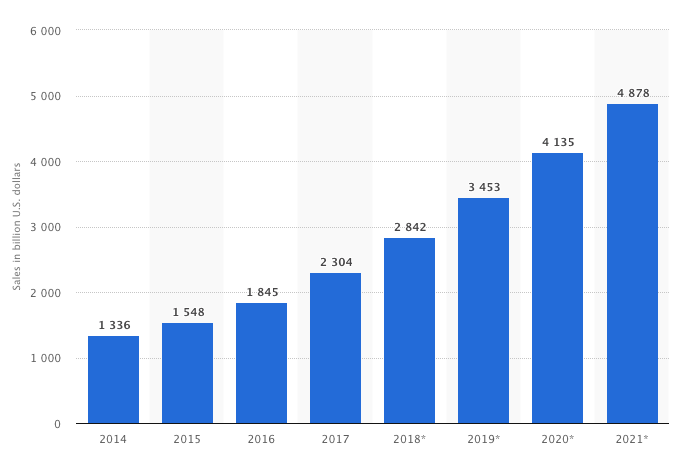 Source: Statista
It is evident that digital technology is affecting all industries and the way modern businesses are managed. Companies must rise to the digital challenge by leveraging digital tools, being innovative with their strategies and creating new value for customers.
Conclusion
Digital transformation is an ever-changing journey that has become a businesses requirement in a hyper-competitive business environment.
The transformation process allows businesses to discover new markets and opportunities, increase revenue and improve efficiency. But to fully embrace digital transformation, enterprises must start with a digital strategy and simultaneously focus on leveraging the opportunities of new technologies as well as how to implement those technologies to better serve the company.
To discuss the major benefits of digital transformation specifically for your business model as well as specific solutions I have developed, contact me today for a confidential discussion.