Big data has become a huge concept in 2018, yet many corporations still continue to be puzzled by how to use it and what it means. In short, big data is a potent and advantageous tool for sales and marketing. It utilises intelligence and analytics to steer massive company growth.
Social networking has become a way of life and the number of devices that people use is ever-inflating, and this then proceeds to generate untapped sources of data that can assist businesses compete more effectively.
So how can you utilise the power of big data for running a franchise I hear you ask? The franchise model permits store managers to have a vast amount of autonomy, however the company can still capitalise on data to refine their bottom line, and that applies to both the central management and the franchise owners.
In this post, I've analysed the origins of big data and how today's technological advances are rapidly accelerating the evolution process. I then delved into the 5 V's of big data to illustrate a better understanding of what it actually is as well as outlining some common ways that companies collect data. Of course, I then focused on how big data can be successfully applied to multi-unit brands such as franchise groups.
*Approx 15 minute read
Who Is This Post For?
Local business owners small to large
Multi-unit brands such as franchise groups, dealer networks and national brands with a local presence.
Commonly Asked Questions that I will Address:
What is big data
How did big data come about
What are the 5 V's of big data
Why big data is important
What is big data analytics
What are some common ways that companies collect data
How can big data be applied to multi-unit brands such as franchise groups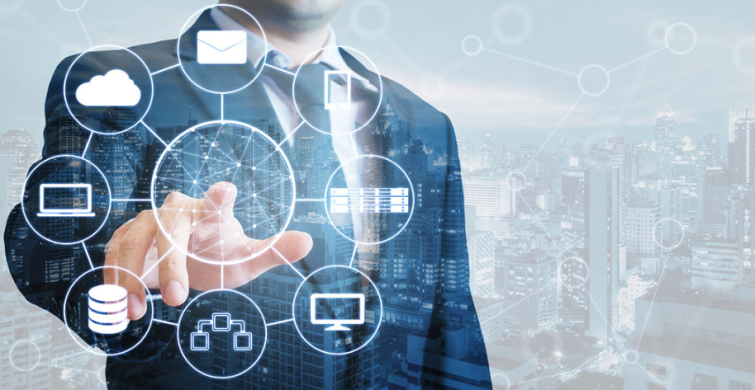 Big Data. What is it?
Big data is all the information collected through various technological sources and then processed in a way that traditional data mining and handling techniques are unable to analyse. Unstructured, time sensitive and very large data cannot be processed by standard databases. This sort of data requires a more structured processing approach and emphasises why big data has become so vital:
Accessible computational potential is ever-increasing, so there are many more ways to process big data.
The Internet of Things (IoT) has mass produced data, continuously enlarging the data accessible while also creating more raw data.
Evolution of Big Data
In the 80's, companies were collecting consumer data mainly through conventional methods such as:
Focus groups
Questionnaires
Surveys
Feedback requests
To process this information, they used plain databases to analyse the results and try to find out more information about the customer demographic, the needs of their customers as well as how to expand their customer base.
Fast forward 35 years and corporations are still collecting intelligence, albeit in a much grander capacity. Big data is being utilised by collecting customer intel, analysing it and then capitalising on it to customise marketing efforts to individuals and make company wide managerial decisions.
Retailing is a great example. Shoe stores were usually able to monitor which shoes sold and which didn't. Furthermore, if they had a membership scheme, they could track individual sales. However, once online shopping made its big debut, it allowed businesses to exponentially expand the understanding of its customers. Online retailers could then track vast amounts of information such as:
Customer purchases
Customer demographics and commonalities
Browsing data
Site navigation analysis
Performance of all company marketing efforts
Next thing you know, they developed processes to predict what shoes individual customers were likely to buy and then make recommendations based on these predictions. I the past, companies simply did not have access to this kind of information.
In order to understand how big data was born, we need to understand the evolution of the various tools that generate big data in the modern world.
Technology
We went from house phones to smartphones that are mini computers providing information at our fingertips and making our lives smarter.
We were using bulky desktops for processing large amounts of data and now we store it on clouds in an infinite amount much cheaper.
Now self-driving cars are being developed that record every minute details about the environment it is driven in.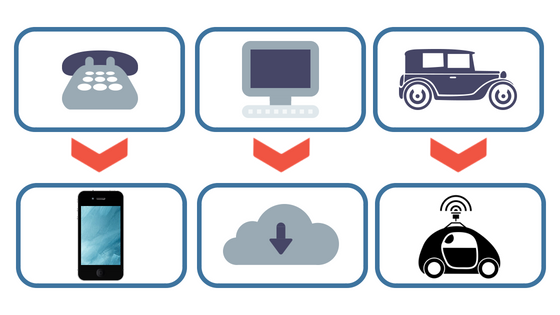 Internet of Things (IoT)
IoT refers to a vast amount of physical devices around the world that are now connected to the internet, all simultaneously gathering and sharing data. As technologies got cheaper and wireless networks grew steadily, anything can be transformed into part of the IoT. This, in turn, increases digital intelligence to devices that would be otherwise inarticulate, enabling them to communicate without human participation, and joining the digital and physical worlds.
Social Media
In today's day and age, most of humanity are using social media in one form or another. Nearly every aspect of our lives is affected. Social media is used in many ways on a frequent basis: networking, procrastinating, gossiping, sharing, educating, games etc.
Did you know that 71 percent of internet users are social network users and by next year, it is estimated that there will be around 2.77 billion social media users around the globe? That equates to a LOT of social media data gathered!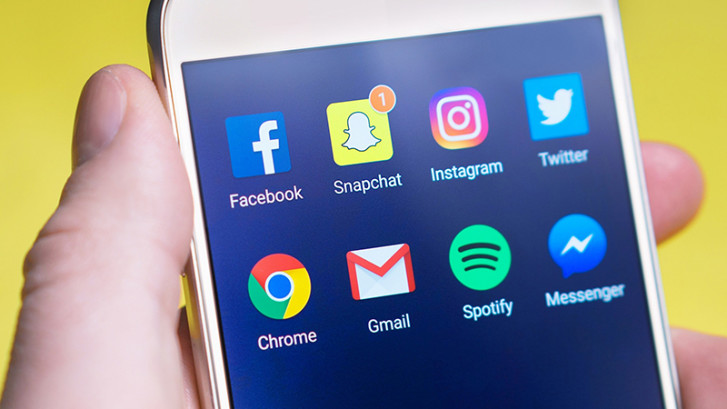 The 5 V's of Big Data
How do we know which data is big data and is going to be hard for us to process? Let's have a look at the 5 V's of big data: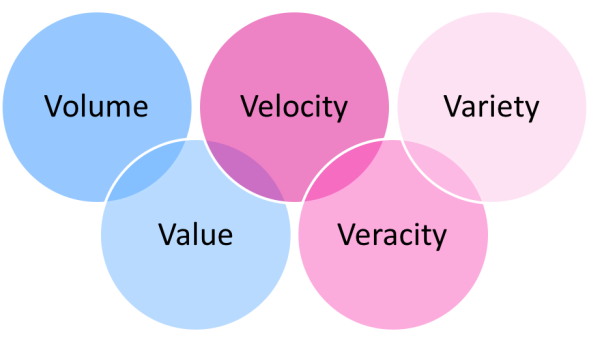 Volume
This refers to the expansive amounts of data generated every moment. Data collected from various sources such as messages, photos, emails, video clips etc. we create and share on a daily basis. Big data volume is rising exponentially and by 2020, the accumulated volume of big data will increase from 4.4 zettabytes to roughly 44 zettabytes. On Facebook alone users send roughly 31.25 million messages and watch 2.77 million videos each and every day. That is A LOT of data being generating on a continuous basis.

Variety
As a result of IoT, we now have access to many various types of data. Traditionally, the emphasis was on structured data that would squeeze into tables or relational databases, however, these days the majority of data is unstructured, and cannot simply be put into tables for analysis (eg. videos and photos).

Velocity
Velocity refers to the speed at which new data is being generated, which is super fast. Social media messages are posted in seconds, photos shared in a heartbeat and credit card transactions processed within moments.

Value
It's one thing to generate all this big data but until we can turn it into value it is pretty much futile. This makes 'value' probably the most important V of big data. There are various methods to determining the ultimate value of data, including data warehouses, business intelligence systems, and analytics sandboxes and solutions.
Veracity
Big data can be murky, incomplete and misleading. Because there are so many types of big data, it makes it difficult to control the quality and accuracy. However, the sheer volume collected often is a trade if for the lack of quality or accuracy.
What is the Importance of Big Data?
The importance of big data does not revolve around how much data a company has but how a company utilises the collected data. Think of it as a haystack and you're fining the needles that allow your business success and growth to be sewn.
Every company uses data in a different way; the more efficiently a company uses its data, the more possibilities for growth exist and facilitate the following:
Customer Perception: Big data analysis can predict what customers need and provide them with a tailored product, service or solution. Furthermore, by using big data tools, customer complaints can be dealt with much faster since these tools can automatically detect negative comments on social media.
Market Check: Big Data Analytics has a huge potential in examining and understanding current market conditions in ways that were never possible 10 years ago. Think along the lines of analysing consumer buying behaviours and discovering the best sellers and then manufacturing future products according to this trend.
Online reputation: Big data allows companies to collect feedback about who is saying what about the company. Social proof, provided by peer-to-peer recommendations of products and services, is a powerful way to persuade your potential customers. Reviews were bigger in 2015 than they were any year prior. In fact, they are becoming increasingly more important each year as consumers become savvier. Customer experience is the new marketing. Well maybe not new, but a return to grassroots in the form of digital.
Cost Savings: Many businesses think that utilising big data tools is too costly but this is only at the start. Within a short time, big data tools end up saving businesses a lot of coin as these tools reduce the cost of IT staff since they are real-time systems. So businesses are free to use these resources elsewhere driving growth.
What is Big Data Analytics?
Big Data Analytics is "the process of examining large data sets containing a variety of data types to uncover hidden patterns, unknown correlations, market trends, customer preferences, and other useful information."
There are several business benefits to Big Data Analytics:
More effective marketing campaigns and more informed business decisions
The discovery of new revenue opportunities
Improved customer service delivery
More efficient operations
Competitive advantage
Specifically, Big Data Analytics enables businesses to zoom into their data collected and look for the most relevant information and analyse it to make important business decisions.
Big Data Analytics has a transformative effect on business as it allows business managers and leaders to make decisions with detailed intelligence and insights available, often in real time.
Common Ways That Companies Collect Data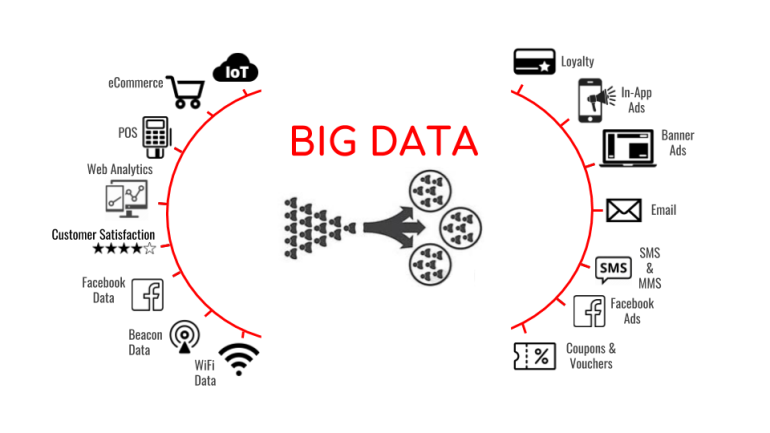 Transactional Data
Transactional data includes multiple variables, such as what, how much, how and when customers purchased as well as what promotions or coupons they used.
It's essential to utilise a good Point of Sale (POS) software because then a business is able to automatically store this information in a CRM (Customer Relationship Management) software. But beware – it is not pertinent to store customer payment details, nevertheless, businesses can set up a complete set of non-payment transactional data to be mined in the future.
Online Marketing Analytics
Every time a user browses a website, information is collected:
Google Analytics has the ability to provide a lot of demographic insight on each visitor. This information is useful is building marketing campaigns, as well as website performance analysis.
Heatmaps provide information on which sections of each website page generate the most 'action' (mouse clicks or interactions).
Social media analytics allows for customer demographic as well as behavioural analysis. And powerful Facebook marketing tools can help you market to audiences that mirror your current following.
Customer Reward Programs
There are so many businesses willing to give customers a discount simply in exchange for their personal information. This is because this data is valuable to them and they can predict many shopping habits and in turn develop customised marketing efforts targeting those customers.
Rewards programs have the power to double overall sales by encouraging repeat shopping.
How Big Data can be Applied to Multi-Unit Brands such as Franchise Groups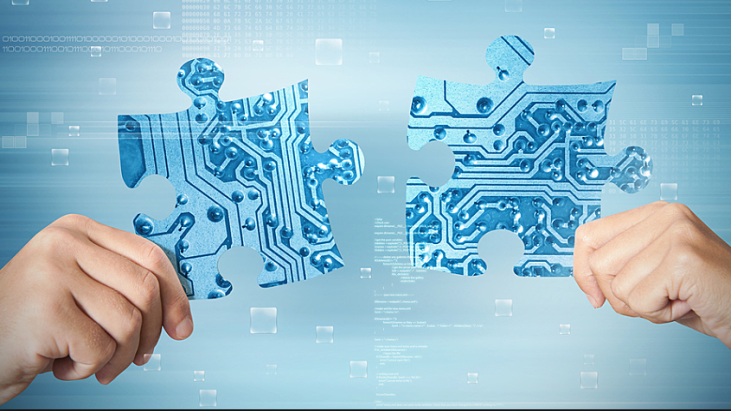 Big data has a great potential in helping the franchise sector create procedures and systems regionally through available metrics that allow the franchisee to form their own strategies and ideas, while corporate can tailor systems for those regions.
For example, franchisees can gather data on customer frequency and keep track of the products they purchase most and what days and times they prefer to come in. What was once confined to localised databases is now in the cloud, so any store can download customer data. This has can help franchisees retain business.
Furthermore, companies can keep track of how many times customers come in (who has been in once this year, who's been in four to six times, who's been in seven to 10 times or more). Then figure out how to market to these different buckets of customers. This way they can eliminate spending a disproportionate amount of marketing on people who already come in many times per year. They can focus on customers coming in one to three times and help move them along.
Let's delve some more into some of the benefits of both franchisees and franchisors.
Benefits as a Franchisor
A franchisor has the benefit of being able to collect data across all the different sources for a complete overview of the story. The intention is to integrate all the received data to comprehend both why some franchises perform better than others and what fundamental elements affect all franchises. These methods will allow businesses to choose best practices and design a strategy that takes into account all available insights. It might be challenging to integrate data from various franchises, however by setting certain standards for data reporting and requiring a typical set of reports from all franchises, it will make the process a lot smoother. Procedures will always have to be in place for purifying, amalgamating, and preparing the data, but the more this part can be lessened, the better.
The objective is to have datasets that cover the majority of the operation elements for as many franchises as possible. Then, the data needs to be broken down and scrutinised to see what drives positive results.
Certain elements like location, management, customer demographics, and anything else that seems relevant need to be determined for relevance and importance. This, in turn, will cultivate the creation of a strategy that uses the strengths of the brand and discards its weaknesses.
Benefits as a Franchisee
As a franchisee, it is to be expected to receive more data and reports than doing your own research. Pragmatically, it is more difficult for a franchisee to have the time and resources to look at data themselves. Thus, it is more beneficial to outsource that type of work.
Management has access to all of the information from every franchise and can then pass it on to the individual franchisee. Although, franchisees can do some data analysis on their own business data. This could speed up as well as aid their strategy without any delays from top management while they review things. A franchisee has access to vast amounts of intricate data and thus many opportunities exist to learn a lot about the business as well as customers.
Fundamentally, big data presents many advantages to both the franchisor and franchisee. Whether it is leads, analytics from web traffic, behavioural analysis, or some other type of data, discovering ways to gain new customers or save money is a huge competitive advantage.
Conclusion
It is inevitable that Big Data will continue to play an important role in many different industries around the world as it helps businesses create new growth opportunities. With big data, businesses have ample information about the products and services, buyers and suppliers as well as consumer preferences that can be collected and analysed.
It has never been a better time to invest in big data projects and build capacity for data analysis as the world is becoming increasingly competitive. The quicker companies get on board, the more opportunity for growth exists.
Within the Franchise model, it is essential that franchisors work together with franchisees to overcome big data challenges and recognise the essence of keeping up with technology and better understanding customer behaviours. With big data, managers can measure, and hence know, radically more about their businesses, and directly translate that knowledge into improved decision making and performance.
At the end of the day, savvy businesses in all industries will see using big data for what it is: a management revolution.
To discuss the major benefits of using Big Data outlined specifically around your business model as well as specific solutions I have developed for Franchise groups and multi-unit organisations, contact me today for a confidential discussion.