Social media has become a way of life for literally billions of people. The continuous sharing of information is widely accepted as a daily networking activity.
According to Statista, 71% of internet users are social network users and by next year, it is estimated that there will be around 2.77 billion social media users around the globe? That equates to a LOT of social media data gathered!
To succeed on social media, it's essential to stay ahead of the curve and understand the latest social media trends.
In this post, I discuss the top major trends to help businesses succeed on social media in 2018.
Approx 12 minute read
Who Is This Post For?
Local business owners small to large
Multi-unit brands such as franchise groups, dealer networks and national brands with a local presence.
Commonly Asked Questions That I Will Address:
What is the social media phenomenon
What are the top seven social media trends
Why is mobile on the rise
What is social messaging
What are chatbots
What is social media customer service
Why videos are the future of content
Why user generated content is so important
Why social ads are so powerful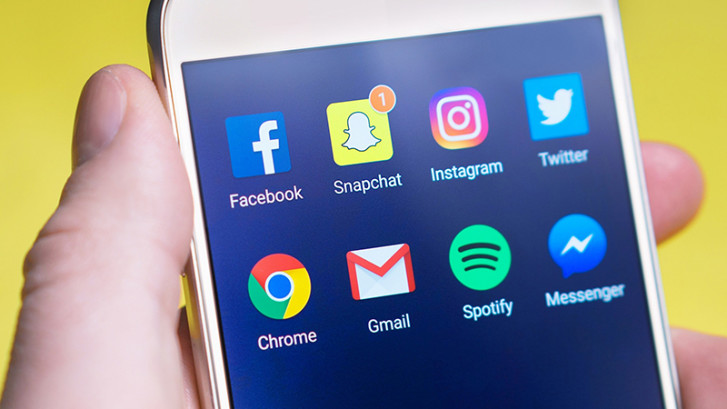 The Social Media Phenomenon
It it important to note that one of the main reasons why social media is such an effective marketing tool is this: currently there are 2.62 billion users of it, and by 2021 the 3 billion mark will be cracked.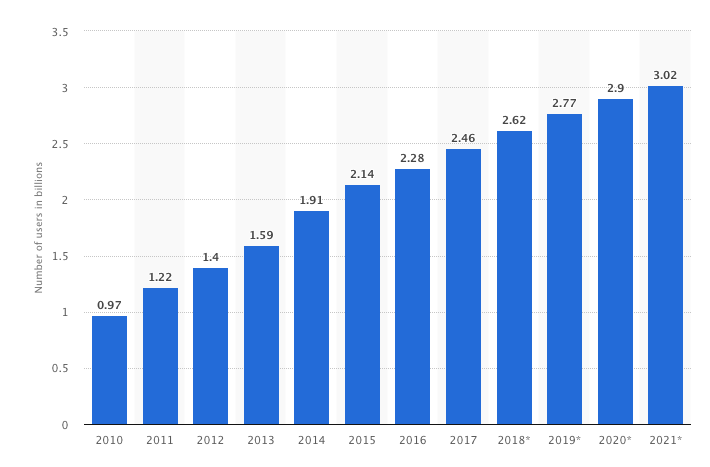 Social media marketing is going head to head with the good old TV commercial for the title of the most impactful form of advertising. TV advertising consumption is dwindling fast and according to Zenith it seems highly likely that TV will lose its spot at the top before long.
Through social media advertising tools such as ads targeting, companies can reach a huge amount of potential customers. Ad targeting is every marketers dream – the ads can be set up to target particular groups of audiences based on their past behaviour, demographics or interests.
Data from Statista shows that Facebook is the top platform with most active users at 2.23 billion followed by YouTube, WhatsApp, Messenger, WeChat and Instagram and the rest.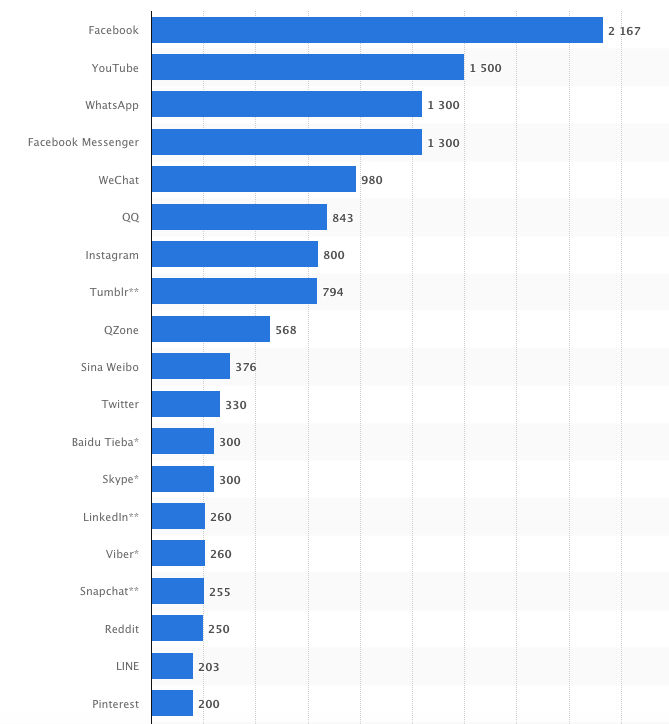 Data like this speaks for itself – social media is a huge player in the modern day marketing arena and it is crucial for organisations to keep up and understand the latest social media trends.
Here is a comprehensive list of the top social media major trends in 2018.
1. It's all About Mobile
It's official: smartphones have become a way of life. According to Ericsson, 70 percent of the world's population will be using smartphones by 2020, and 80 percent of all mobile data traffic will come from smartphones. North America and Europe will continue to have highest data usage per smartphone.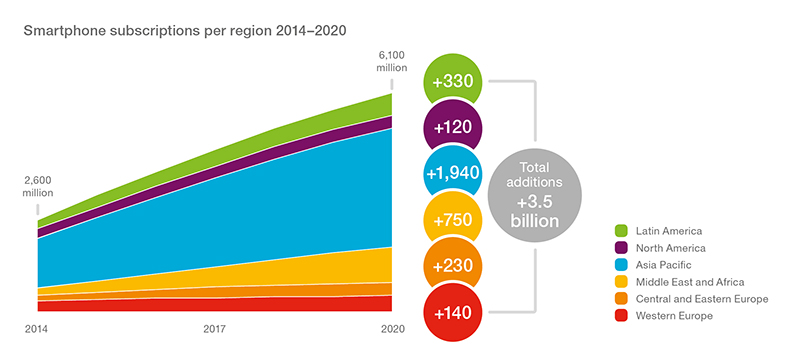 The majority of social media users are using mobile apps via their smartphone and recent data shows that 87 percent of people surveyed use Facebook on a daily basis. The findings further indicate that
Millennials (53%) check Snapchat daily, nearly 3x more than Gen Xers (18%) and almost 8x more than baby boomers (7%).
Over one-third of social media app users (35%) say they typically spend 10-20 minutes on a social media app after opening it.
Nearly three-quarters of social media app users (72%) read or watch news stories on social media apps, confirming a significant shift in how news is consumed.
What's more, comScore's 2017 U.S. Mobile App Report found that 78 percent of social media time is spent on mobile devices.
With such sobering statistics, it is easy to see the importance of investing in mobile-friendly websites, content and apps.
2. Social Messaging is on the Rise
Over the last few years, social messaging apps have experienced a massive usage hike. Indeed, according to Business Insider, messaging apps have surpassed social networks in terms of monthly actives user numbers. WhatsApp is by far the most popular messaging app with more than than 1.5 billion monthly active users, up from over 1 billion in February 2016.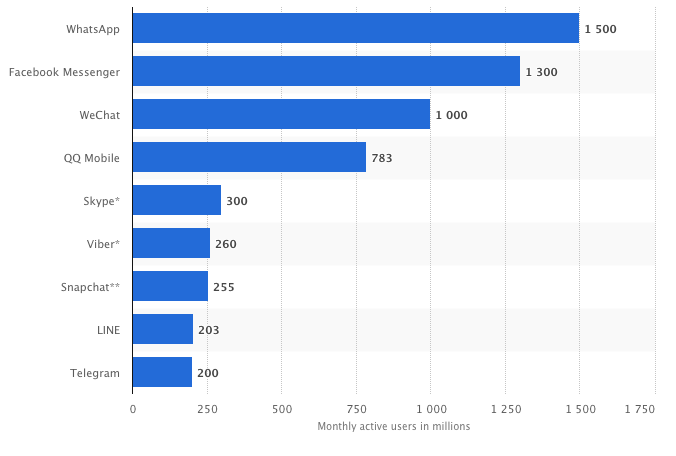 There are so many opportunities for businesses to utilise social messaging into their marketing efforts because messaging provides a cheap and easy platform for businesses to connect with their target audience. These days people prefer to message a business to ask questions, buy products or simply give feedback.
3. Chatbots Are Here to Stay
Chatbots were born as a result of the ever growing social messaging trend.
Chatbots are systems that are based on artificial intelligence and connect with users via automated messaging. The bots can be installed on websites and apps like WhatsApp, Messenger and Slack. They allow businesses to communicate with their customers instantly and without human help. This means 24/7 brand presence.
Oracle reports that by 2020, 80% of organisations globally have chatbots already installed or plan to install them. What's more, according to Statista, the global chatbot market is expected to reach $1.25 billion by 2025.
No wonder, as the benefits that chatbots deliver to businesses are vast.
Data published by Business Insider shows that chatbots have a positive reception amongst consumers. LivePerson did a survey which included 5,000 participants, 33% of which rated a positive perception of chatbots, compared to the 19% that rated a negative perception.
4. Customer Service Via Social Media
The days of customers calling or emailing a business for any enquiries or complaints are numbered. These days social media is the go to platform for this.
The Guardian found that consumers are turning to social media to communicate with brands at a rapid rate and there was an eight-fold increase in complaints made on social media since January 2014.
Increasingly, platforms such as Twitter and Facebook are being viewed as the perfect vehicles for customers to escalate complaints, with 12% of the 2,195 consumers we surveyed stating they had taken this course of action. The cheap, convenient and public nature of social media platforms means they are a convenient way for shoppers to register their concerns.
This means businesses cannot afford to ignore or neglect such social media posts as the user will go to a competitor or shun the company's product or service completely.
5. Videos is The Future Content
There's no doubt about it, videos have gained huge popularity in the last decade. It's fast becoming a vital component of a strong digital marketing strategy.
The reason for this is simple: videos have the ability to connect on a much deeper level with the audience thus resulting in more engagement.
Here is some fascinating data complained by Forbers that shows the power of videos.
By 2019, global consumer Internet video traffic will account for 80% of all consumer Internet traffic.
Facebook generates 8 billion video views on average per day.
YouTube reports mobile video consumption rises 100% every year.
55% of people watch videos online every day.
92% of mobile video consumers share videos with others.
90% of users say that product videos are helpful in the decision process.
Social video generates 1200% more shares than text and images combined.
Video posts on Facebook have 135% greater organic reach than photo posts.
Including a video on a landing page can increase conversion rates by 80%.
After watching a video, 64% of users are more likely to buy a product online.
These powerful statistics clearly illustrate that the future of content is videos!
6. User-Generated Content Creates Advertisers
User generated content is any kind of content that is published by the general public. It can be anything that promotes another company's brand and can come in the form of photos, mentions, videos, reviews, tweets, blog posts etc.
UGC is the word-of-mouth referral of the digital arena and that's what makes it so powerful. Direct referrals promote authenticity and 63% of consumers say they would rather buy from a company they consider to be authentic over a competitor. 
Customers no longer simply trust traditional marketing channels such as TV and billboards. Rather, they crave authenticity and want a say in who they do and don't buy from by selecting brands that they can connect with on a human level and that share the same values.
If you were to take a look at some statistics about user-generated content, it'll be easy to understand why.
According to ComScore, brand engagements rise by 28% when consumers are exposed to a mixture of professional marketing content and user-generated content
75% of respondents say that UGC makes content more authentic
86% of businesses are utilising UGC as part of their marketing strategy
UGC posts shared to social channels see a 28% higher engagement rate than standard brand posts.
UGC-based ads get 4x higher click-through rates and a 50% drop in cost-per-click than average.
Videos created by (and featuring) users get 10x more views on YouTube than content created by brands
7. The Power of Social Ads
Social media is so ingrained in marketing these days that it has become an integral part. For example, each time a user logs into Facebook or Instagram they are 100% likely to see ads for something they might be interested in.
Social ads are a highly effective way to connect with a target audience on a chosen social media platform. These pocket-sized ads offer consumers highly personalised content that in turn is effective in gaining their attention.
More and more companies are implementing social advertising within their marketing strategies as the possibilities are endless.
Here are some important facts:
The high growth of social ads, as well as ad spending, really bears witness to the importance of social media ads for businesses.
Conclusion
To discuss the major benefits of using social media for your business model as well as specific solutions I have developed for Franchise groups and multi-unit organisations, contact me today for a confidential discussion.