It is evident that the Australian franchise industry is experiencing healthy growth and as a result, competition will only get fiercer.
In this ever-advancing technological climate, one of the most effective ways to ensure the success of your franchise is through digital marketing. Digital marketing has the power to provide franchise businesses with an immense online presence and in turn reach more customers and generate higher sales.
In this post, I will share the 7 most effective digital marketing strategies that your franchise can benefit from directly.
*Approx 12 minute read
Who Is This Post For?
Local business owners small to large
Multi-unit brands such as franchise groups, dealer networks and national brands with a local presence.
Commonly Asked Questions That I Will Address:
What is digital marketing
Why is digital marketing important
What role does digital transformation play
What are the steps to digital transformation success
What are the 7 most effective digital marketing strategies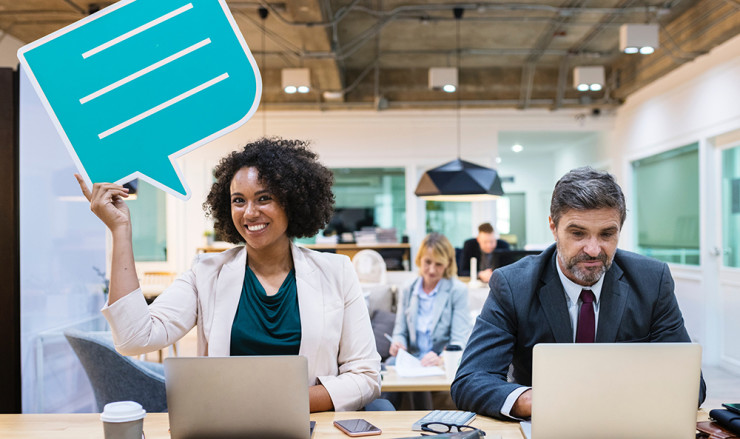 Why Digital?
These days, the consumption of digital media is the norm and its exponential growth is indicating many opportunities for businesses to reach more consumers and grow sales.
People consume digital content on a regular basis whether it be checking Facebook, reading emails or online shopping.
Social networks have huge marketing potential and can be used as a database of future customers. Facebook is by far the biggest social media network on the Internet. 13 years after launching and less than five years after hitting 1 billion, Facebook now has 2 billion monthly active users.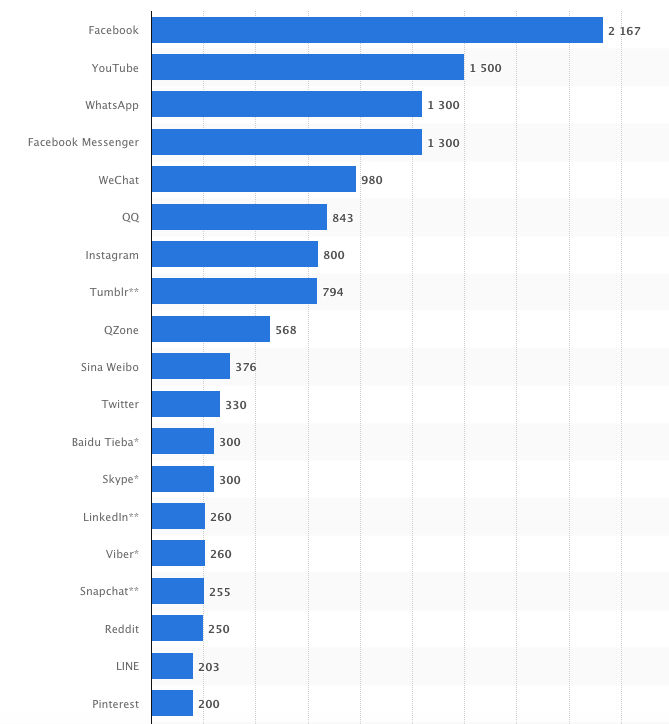 This brings us to the process of digital transformation whereby businesses are more or less forced to adopt a culture that supports digital technologies within the business strategy.
The digital transformation process is fast becoming a competitive necessity for many businesses. Hefty and fast-moving technological advances coupled with swift market and competition changes and growing customer expectations are intensifying the need for companies to evaluate their business models, internal capabilities, and customer experiences.
3 Steps for Digital Transformation Success
Step #1: Embracing a culture of change
As previously mentioned, digital transformation, in order to take place, demands a change in the company culture. In such a fast paced technological world as today, businesses simply need to be in a state of constant revolution. Once any changes are made, then more follow and so on. It is important for businesses to build a momentum that is in tune with any new trends in the industry.
Having a culture of continuous change and evolution is key combined with a strategy of continuous improvement.
Step #2: Measure your KPI's
In order to truly embrace continuous change, businesses have to analyse the methods by which they measure themselves – the key performance indicators (KPIs) as well as the analytics tools used. Establishing new KPIs that reflect fast-paced market trends, technological advances, as well as increasing amounts of data consumption and collection is vital nowadays. Likewise, reviewing any old and outdated KPI's is just as important.
Step #3: Take action
Both of the above two steps are futile if no action is taken. It is imperative that change is embraced, measured and implemented. Furthermore, to make a digital transformation happen, the whole organisation needs to be in complete alignment with the changes taking place. The journey needs to become everybody's job, everyone's responsibility.
Most Effective Digital Marketing Strategies
#1. Website
Dynamic and user friendly websites are a must. A well designed website will help customers find what they need and keep them coming back for more.
The way consumers are engaging with brands has shifted dramatically as more people will search online before making a visit and/or purchase. In fact, 40% of shoppers use a search engine to find a brand before they buy. No wonder Google's monthly searches are over 100 billion!
So how can you make sure your website is effective and delivering results? With these 3 steps:
Perform Website Audit
Do a website analysis of your current web design and look at the user experience. The website needs to be simple to read and navigate.
Reduce Load Time
Lagging load times have a direct effect on the user experience and can also hinder SEO efforts. Ensuring that all images or videos are condensed is essential to reducing load times.
Ensure Site is Mobile Friendly
A recent survey of mobile users found that 72% say it's important to them that websites are mobile-friendly and three-quarters said they are more likely to revisit a mobile-friendly site. This plays a crucial role if businesses want to remain competitive in the digital marketplace.
Any good website should first and foremost have the branding and logo present, have an easy navigational structure – especially locations, and specify clear calls to action.
#2. Local SEO
This is a big one. It's fair to say that SEO is among the most successful marketing tools as it captures customers that have already expressed an interest in a particular product or service. This audience is 'hot' and wants the solution now.
As a business, you want your products and services to have top rankings when the customer searches as chances are it will result in a purchase. This is where local SEO comes in as it helps businesses promote their products and services to local customers at the exact time they're looking for them. This is done by an array of methods from optimising the keywords on a website to linking other pages.
Competition can be intense however and in order to stay on top of the search results, it's crucial for franchises to implement a local SEO strategy because franchises operate in multiple locations.
A solid local SEO strategy will encompass the development of a well planned website structure, have on point keyword targeting, relevant and curated local content, be linked to established websites and all franchise locations Google My Business listings would have been claimed.
According to GoGlobe half of customers who do a local search visit a store within 24 hours!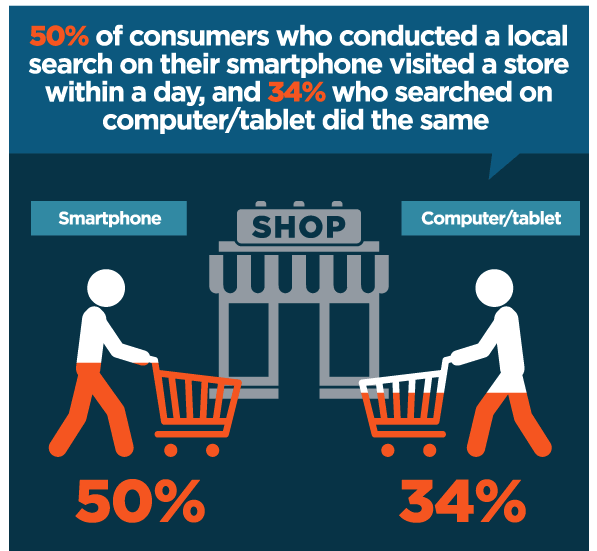 More Local SEO Statistics:
Local customers are turning to the internet to find local businesses – on desktop AND mobile
96% of PC owners conduct local searches
46% of all Google searches are local
64% of local customers use search engines and directories as their main way to find local business
50% of local mobile searchers look for business information (like a company's address or phone number)
A whopping 78% of local mobile searches result in an offline purchase
Source: BrightLocal
#3. Content Marketing
Content marketing involves promoting products and services through curated and shared content via platforms like blog posts, videos and social media.
Providing that your content is highly informative and engaging, this form of digital marketing has the potential to be very effective. The key is to publish content that places your franchise as an expert in the marketplace. When the content is good, the audience will be much more likely to want to learn more about the business and thus more willing to purchase product and services.
These days 90% of businesses are already using content marketing to generate inbound leads. So it's easy to assume that more content will result in more traffic to the website.
In a recent Hubspot study, it was revealed that companies that blog have 434% more indexed pages than businesses without blogs. This is because Google increases the page ranking as more content is published. No wonder 60% of marketers publish one piece of content every day.
A good content marketing strategy will have relevant and personalised content with a frequent publishing schedule incorporating great keywords and utilising images and graphics for better user engagement.
#4. Pay-Per-Click (PPC) Ads
PPC is any paid traffic directed to a website using platforms such as Google Adwords and Yahoo Search Marketing. These allow businesses to display ads in the sponsored results section of each search engine's results page by targeting specific keywords.
The cost of PPC varies depending on how competitive the selected keywords are. Businesses then set a budget, and only pay when visitors click the actual ads.
A recent CleverClicks Report illustrated that PPC traffic converts 50% higher than organic traffic and the majority (66%) of buyer-intent keywords are paid clicks with an average of 200% ROI.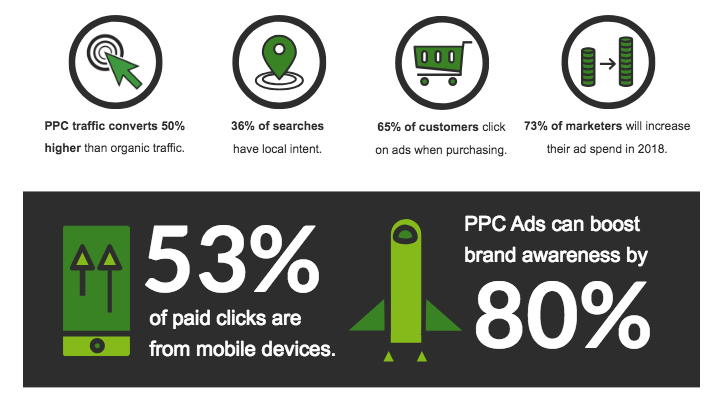 These are some powerful stats demonstrating that PPC works fast and can quickly boost website traffic, leads and revenue for your franchise.
#5. Social Media
It is important to note that one of the main reasons why social media is such an effective marketing tool is this: currently there are 2.62 billion users of it, and by 2021 the 3 billion mark will be cracked.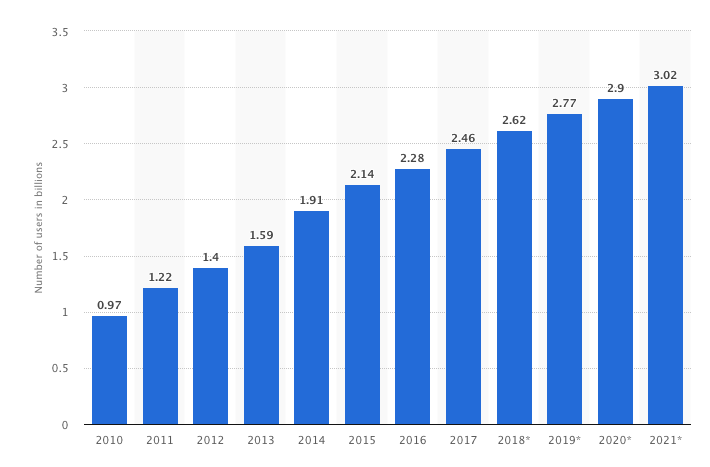 Social media marketing is going head to head with the good old TV commercial for the title of the most impactful form of advertising. TV advertising consumption is dwindling fast and according to Zenith it seems highly likely that TV will lose its spot at the top before long.
Through social media advertising tools such as ads targeting, companies can reach a huge amount of potential customers. Ad targeting is every marketers dream – the ads can be set up to target particular groups of audiences based on their past behaviour, demographics or interests.
Data from Statista shows that Facebook is the top platform with the most active users at 2.23 billion followed by YouTube, WhatsApp, Messenger, WeChat and Instagram and the rest.
Data like this speaks for itself – social media is a huge player in the modern day marketing arena and it is crucial for organisations to keep up and understand the latest social media trends.
Franchise businesses especially have to make sure that all business information is up-to-date on all social media pages, posts always include great images, all conversations are monitored and responded to and analytics tools are used to measure social media engagement.
#6. Email Marketing
Email marketing has come a long way since the initial email message was sent in 1971. Today, over 205 billion emails are sent and received every day according to the technology research firm, Radicati.
Email is a key customer communications channel for today's marketers and shows no sign of slowing. It plays a core role in marketing automation and combines the tools needed for data integration.
And if these stats don't convince you, here are more email marketing reasons worth looking at:
Works in unison with content marketing by collecting visitor email addresses
Increases traffic and sales by engaging customers in more human ways, in turn driving traffic to the website
Builds relationships with target audiences by nurturing returning customers with content
What's more, a report published by Econsultancy states that almost three quarters of 689 company respondents rated email marketing as good or excellent for ROI.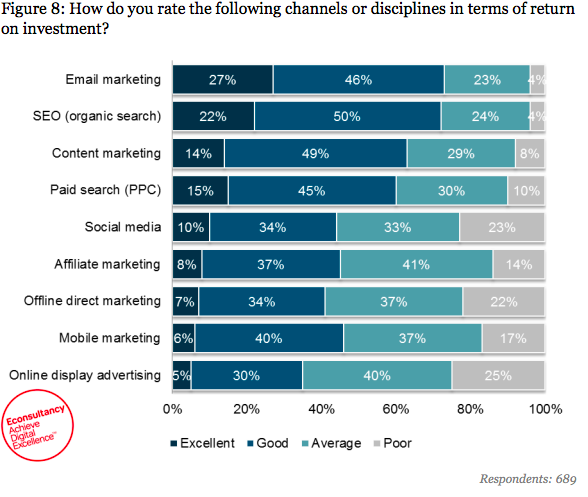 Source: Econsultancy
To succeed in email marketing, franchises must have personalised email content, promote consistent branding, always include calls to action and test and optimise the campaigns based on analytics results.
#7.  Reputation Management
Online reviews have moved from "nice to have" to essential. As customers look to these sites for feedback; updating profiles, responding to reviews and engaging customers becomes increasingly more important. Maintaining positive word of mouth online is digital age customer excellence.
Reviews were bigger in 2017 than they were any year prior. In fact, they are becoming increasingly more important each year as consumers become savvier. Customer experience is the new marketing. Well maybe not new, but a return to grassroots in the form of digital. The importance of responding to customers could not be more prevalent. These stats illustrate that reviews are on the minds of all consumers:
88% have read online reviews to determine the quality of a local business (vs. 85% in 2013)
39% read reviews on a regular basis (vs. 32% in 2013)
Only 12% do not read reviews (vs. 15% in 2013)
84% of people trust online reviews as much as a personal recommendation
7 out of 10 consumers will leave a review for a business if they're asked in person
90% of consumers read less than 10 reviews before forming an opinion about a business
54% of people will visit the website after reading positive reviews
73% of consumers think that reviews older than 3 months are no longer relevant
74% of consumers say that positive reviews make them trust a local business more
58% of consumers say that the star rating of a business is most important
In BrightLocal's most recent consumer survey report, they found:
84% of people trust online reviews as much as a personal recommendation
90% of consumers read less than 10 reviews before forming an opinion about a business
74% of consumers say that positive reviews make them trust a local business more
58% of consumers say that the star rating of a business is most important
What franchises can do is encourage online business reviews as well as make them easily accessible and aim to reply to all reviews as to acknowledge the customers' concerns.
Conclusion
Digital marketing is an evolving journey that has become a businesses requirement in a hyper-competitive business environment. It is essential for multi-location businesses like franchise groups to have solid digital marketing strategies in place as their sheer location presence allows for much greater customer reach and sales revenue.
To discuss which combinations of digital strategies can bring the most benefits specifically for your business model as well as specific solutions I have developed, contact me today for a confidential discussion.