In the current fast-paced technologic climate, figuring out which tech stack to choose is more often than not a difficult and somewhat confusing decision to make. The overwhelming number of choices coupled with the need for at least some technical know-how leaves many leaders with apprehension that making the wrong choice may have grave consequences in the future.
According to MarketingLand, in 2011 there were approximately 150 businesses geared toward marketing technology. A year later, there was a 2500% increase to 4,000 businesses! In addition,  Forrester predicts that marketing technology budgets will "grow by double digits" in 2018.  One thing is for sure, marketing technology is experiencing growth at an exponential rate with no end in sight.
In this blog, I will delve into the 7 pivotal marketing tech stacks that help propel company growth and analyse each of these to get a clear understanding of which tech stacks are most suitable for an array marketing functions.
*Approx 8 minute read
Who Is This Post For?
Local business owners small to large
Multi-unit brands such as franchise groups, dealer networks and national brands with a local presence.
Any brand, whether you're just starting in your digital journey or you're advanced, this post is for you.
Commonly Asked Questions That I Will Address:
What is a marketing tech stack
What is the marketing technology age
How to choose a tech stack
What are the key technologies available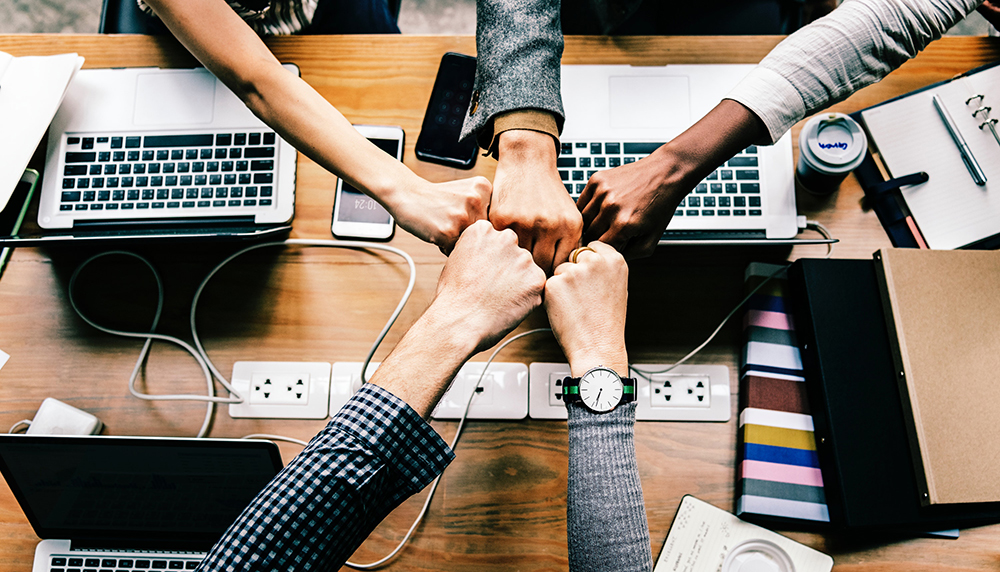 What is a Marketing Tech Stack?
Simply put, a marketing tech stack involves a set of technology-based tools (I.e. social media marketing tools) that businesses use to conduct and improve marketing activities, across various chosen channels.
The term 'stack' is derived from the grouping of technologies that are used to make marketing efforts seamless as well as measure the impact and drive more efficient spending.
Depending on the business model, marketing technology stacks can vary from different types to the number of tools used.
As mentioned above, the sheer choice of stacks can be overwhelming. This is perfectly illustrated by the below marketing technology landscape graph. It shows that in 2011 only 150 solutions were available. By 2017, there were 5000! It's definite that this is not a trend – technology stacks are here to stay.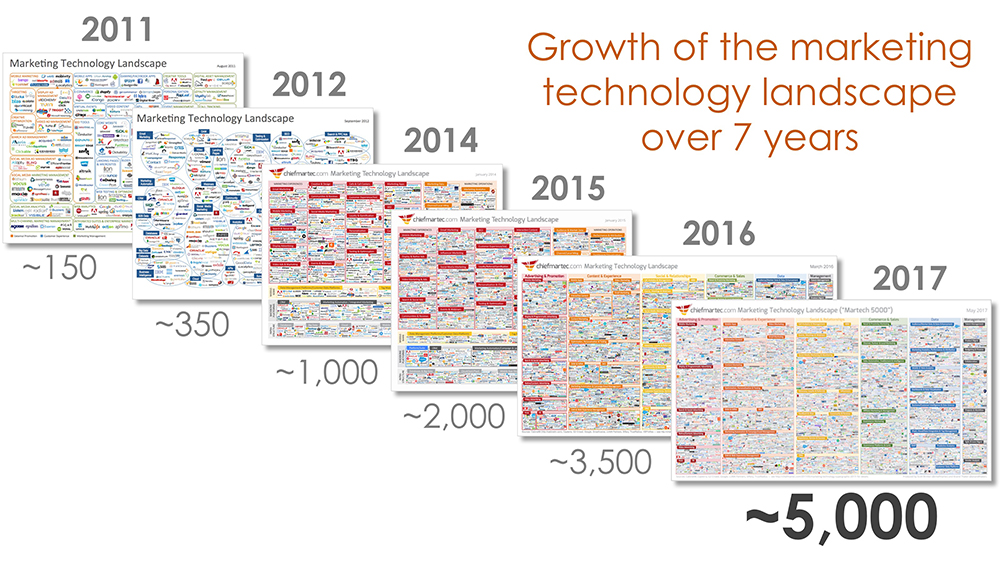 #1. Search Engine Optimisation (SEO)
This is a big one. It's fair to say that SEO is among the most successful marketing tools as it captures customers that have already expressed an interest in a particular product or service. This audience is 'hot' and wants the solution now.
As a business, you want your products and services to have top rankings when the customer searches as chances are it will result in a purchase. This is where SEO comes in as it's sole focus is to increase rankings in organic (non-paid) search engine results. This is done by an array of methods from optimising the keywords on your website to linking other pages to yours.
Competition is fierce however and in order to stay on top of the search results, it's crucial to implement a solid SEO tool.
#2. Advertising Technology
Ad tech is the combination of all the tools used to run and manage advertisement campaigns. it encompasses the whole ad delivery process from choosing the ad theme to positioning and target audience.
A good ad tech integration will deliver your ads to the targeted market as well as make the most out of each impression, and in turn, increase sales.
Two of the most profound advertising tech tools are programmatic and omnichannel advertising. Programmatic advertising uses machines rather than people to conduct advertising activity online, whereas omnichannel reaches target consumers across all channels, including desktop and mobile by analysing how customers have interacted with a brand in the past.
#3. Social Media
Social media is so ingrained in marketing these days that it has become an integral part. For example, each time a user logs into Facebook or Instagram they are 100% likely to see ads for something they might be interested in.
One of the main reasons why social media is such an effective marketing tool is this: currently there are 2.62 billion users of it, and by 2021 the 3 billion mark will be cracked.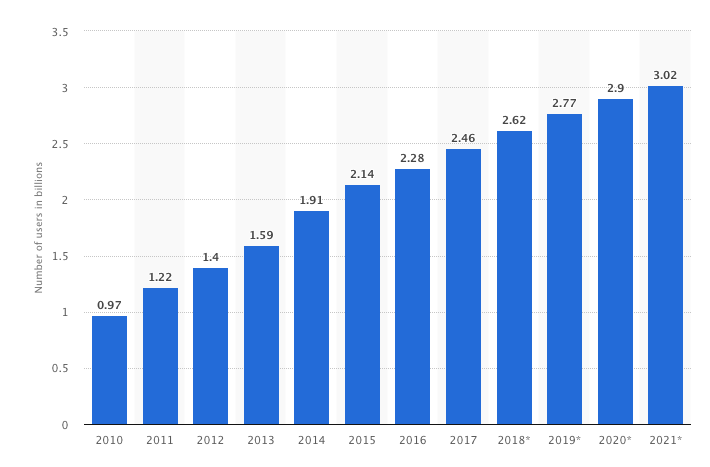 Social media marketing is going head to head with the good old TV commercial for the title of the most impactful form of advertising.
TV advertising consumption is dwindling fast and according to Zenith it seems highly likely that TV will lose its spot at the top before long.
#4. Email Marketing
Email marketing has come a long way since the initial email message was sent in 1971. Today, over 205 billion emails are sent and received every day according to the technology research firm, Radicati.
Email is a key customer communications channel for today's marketers and shows no sign of slowing. It plays a core role in marketing automation and combines the tools needed for data integration.
And if these stats don't convince you, here are more email marketing reasons worth looking at:
Works in unison with content marketing by collecting visitor email addresses
Increases traffic and sales by engaging customers in more human ways, in turn driving traffic to the website
Builds relationships with target audiences by nurturing returning customers with content
#5. Content Management System (CMS)
CMS is a program that supports the creation, management, distribution, publishing, and discovery of corporate information. In other words, it allows for easier web content management as well as multiple user capabilities.
Benefits of a CMS include:
Improved site navigation, consistency and flexibility
Simplified publishing process and better security
Better information transparency
Greater growth volume
Lower site maintenance expenses
#6.Video Hosting
There's no doubt about it, videos have gained huge popularity in the last decade. It's fast becoming a vital component of a strong digital marketing strategy.
The reason for this is simple: videos have the ability to connect on a much deeper level with the audience thus resulting in more engagement.
It's important to note that for businesses, the habit of posting videos on YouTube are dwindling. Instead, the trend is towards platforms that provide more functionality and flexibility in the structure and management of video marketing.
Here are a few aspects to examine when figuring out what tool to use for video support:
How will the video be used in the marketing efforts
What types of insights are required
The level of flexibility and customisation required
The number of videos to be managed
#7. Analytics
In order to gauge marketing performance and measure digital marketing activity, businesses need a tool that will enable this data collection and analysis. These days, the majority of businesses have website analytics tools installed and working.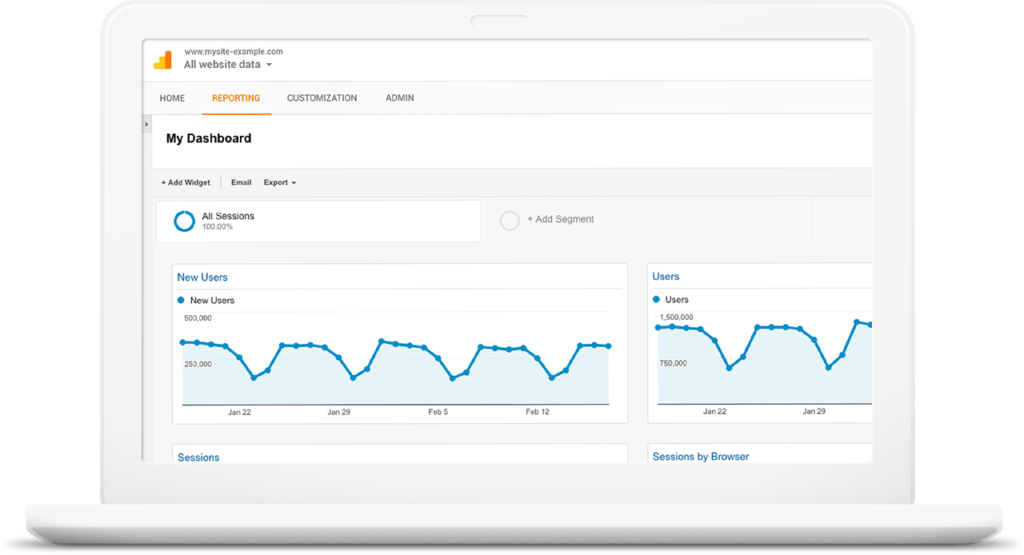 Naturally, Google Analytics is the main preference and it's best integrated with AdWords to get the best out of both platforms.
By far, Google Analytics has held the #1 spot for the most used analytics tool on the web.  According to BuiltWith, 39,898,129 websites are using Google Analytics across the entire internet. That includes a whopping 88% of the top 10,000 sites and 84% of the top 100,000 sites.
Conclusion
To discuss which marketing tech stack is most suitable for your business model as well as specific solutions I have developed for Franchise groups and multi-unit organisations, contact me today for a confidential discussion.