Digital transformation is an inevitable process for modern-day companies – a process of using technology to radically change your business.
Today's fast-paced technological age has created fierce competition amongst businesses to create new products and/or services for their customers by leveraging new technologies. Slowly, the vast majority of businesses are becoming increasingly digital. Regardless of the industry, eventually all companies will need to deliver their services & APIs to consumers, mobile applications, devices of IOT (internet of things) and many different systems.
Within this inevitable transformation, business models as well as strategies must be changed which in turn will have a snowball effect on processes, capabilities, information systems and infrastructures.
In this post, I will discuss the various system changes during that process.
*Approx 8 minute read
Who Is This Post For?
Local business owners small to large

Multi-unit brands such as franchise groups, dealer networks and national brands with a local presence.

Any brand, whether you're just starting in your digital journey or you're advanced, this post is for you.
Commonly Asked Questions That I Will Address:
What is digital transformation
Why businesses are going through a digital transformation

What the steps are for getting a digital transformation on track

Why the need to build a culture of constant change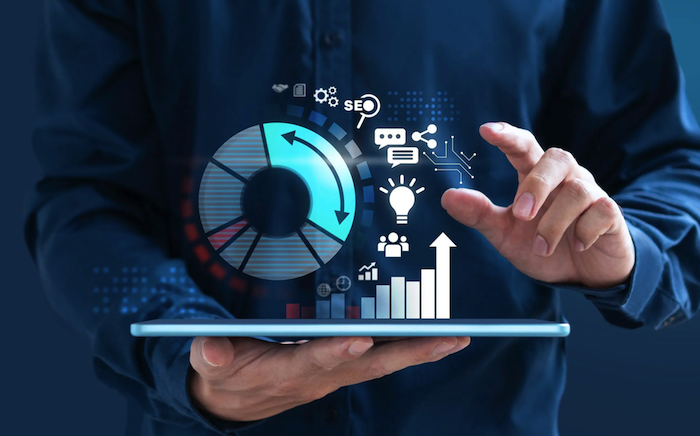 What Is It All About?
Digital Transformation is "the transformation of business by revamping the business strategy or digital strategy, models, operations, products, marketing approach, objectives etc., by adopting digital technologies. This accelerates sales and growth of the business from end to end."
This process is fast becoming a competitive necessity for many businesses. Hefty and fast moving technological advances coupled with swift market and competition changes and growing customer expectations are intensifying the need for companies to evaluate their business models, internal capabilities, and customer experiences.
The larger the business, the more challenging the transition into digital will be as there are many more processes that are affected. Digital transformation is no walk in the park, it demands sizeable ideas, brave actions and most importantly – the change in the company culture. Whilst technological advances are widely accepted and somewhat understood, however often the cultural changes that are necessary to make digital transformations successful are snubbed.
Michael Gale, a recognised industry expert in integrated technology marketing said  "… this is a fundamental shift in how people had to think about how they interact, how they collaborate and work and if you don't spend time changing people's behaviours, you don't spend time changing culture and how people make decisions, all of this falls flat."
That is one of the main reasons why 84% of companies fail at digital transformation.
Digital transformation can also provide insight on a much wider scale such as:
Opportunities to examine business 

operations

O

rganisational structure

Operating model

Products and services
A Language of Change
Most people are not aware of the immense power that words have within our lives. The same applies to the language that's used internally in the organisation. How a company communicates to their employees and customers as well as about their products and opportunities will impact directly on the success of the transformation journey.
Trying to make a whole company move in an entirely new direction is a challenge in itself. Managers need to be able to inspire their team to want to change through the correct language.
For example, leaders should cease using the same old corporate lingo and instead use language in relational and encouraging ways. The aim here is to engage with the receiver of the information on a fundamentally human level.
Steps for Getting a Digital Transformation on Track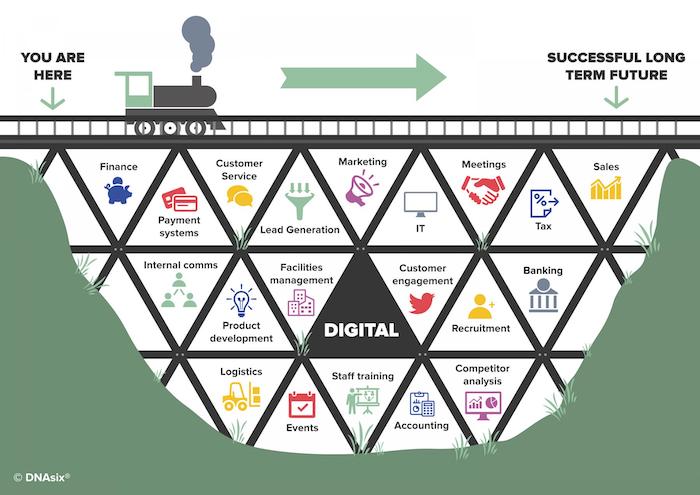 Step #1: Embrace a Culture of Change
As previously mentioned, digital transformation, in order to take place, demands a change in the company culture. In such a fast paced technological world as today, businesses simply need to be in a state of constant revolution. Once any changes are made, then more follow and so on. It is important for businesses to build a momentum that is in tune with any new trends in the industry.
Having a culture of continuous change and evolution is key combined with a strategy of continuous improvement.
Step #2: Measure Your KPI's
In order to truly embrace continuous change, businesses have to analyse the methods by which they measure themselves – the key performance indicators (KPIs) as well as the analytics tools used. Establishing new KPIs that reflect fast paced market trends, technological advances, as well as increasing amounts of data consumption and collection is vital nowadays. Likewise, reviewing any old and outdated KPI's is just as important.
Step #3: Take Action
Both of the above two steps are futile if no action is taken. It is imperative that change is embraced, measured and implemented. Furthermore, to make a digital transformation happen, the whole organisation needs to be in complete alignment with the changes taking place. The journey needs to become everybody's job, everyone's responsibility.
Digital Strategy
Whilst digital transformation is fundamentally propelled by continually advancing technologies, its successful execution mainly depends on having a good strategy.
According to a study by Deloitte and MIT Sloan Management Review, "maturing digital businesses are focused on integrating digital technologies, such as social, mobile, analytics and cloud, in the service of transforming how their businesses work." On the other hand, "Less-mature digital businesses are focused on solving discrete business problems with individual digital technologies."
The key is to focus on strategy for digital growth rather than the technology itself. Technology is ever-changing, thus businesses will always have to change or upgrade to new and faster platforms or software. However, the way in which businesses implement that technology is really what is essential.
Furthermore, digital strategies have to encompass both the online as well as offline worlds. Businesses need to provide good experiences for both the customers physically shopping in stores, as well as the ones shopping online.
Here are a few ways in which businesses can develop a sound digital transformation strategy:
What is the objective?
What needs to be accomplished through this transformation. What are the goals?  This is essentially the most important step in developing a digital transformation strategy as defining the overall objective aligns and drives transformation at every level of the business.
What's is the desired experience?
What are the experiences that are being provided to the customers? Businesses need to outline and establish the desired experience, which should be harmonious and compatible. This experience should be one that enables users to achieve their goals — whether in doing their work or in purchasing products.
What technologies are already in play?
Taking stock of existing software, applications, and technologies allows businesses to know where they currently are, technologically. In turn, this prioritises the technologies that will be updated in the transformation journey and align them with the objectives and the desired experience.
Which solutions?
Just like with a technological stock take, businesses will have to also undertake a good reevaluation of the solutions and offerings from various vendors. Aside from the capabilities and functionalities of the solutions they offer, the vendor should have a proven track record and should be easy to work with.
Conclusion
Digital transformation is an ever-changing journey that has become a businesses requirement in a hyper-competitive business environment.
The transformation process allows businesses to discover new markets and opportunities, increase revenue and improve efficiency. But to fully embrace digital transformation, enterprises must start with a digital strategy and simultaneously focus on leveraging the opportunities of new technologies as well as how to implement those technologies to better serve the company.
To discuss the major benefits of digital transformation specifically for your business model as well as specific solutions I have developed, contact me today for a confidential discussion.