It's easy to see why content marketing plays a vital role for businesses – 90% of businesses are already using content marketing to generate inbound leads.
Not only is it a very cost-effective marketing tool, but it also improves brand reputation by building trust, influences conversions, improves SEO and gives the businesses a competitive advantage.
The vast majority of current social media platforms and marketing tools must be relentlessly updated with new content. And with updates in Facebook's and Google's algorithms in 2017, content marketing is forever changing.
A content marketing strategy is key for businesses that want to stay on top of those changes.
In this post, I'll dive into why your business needs a content marketing strategy and the exact steps you will need to take to create one.
*Approx 14 minute read
Who Is This Post For?
Local business owners small to large
Multi-unit brands such as franchise groups, dealer networks and national brands with a local presence.
Commonly Asked Questions That I Will Address:
What is content marketing
What is a content marketing strategy
Why is a content marketing strategy important
What are the steps involved in creating a content marketing strategy
What Is Content Strategy?
A content strategy is a detailed plan that outlines how a business will create and publish all of its content. This plan clearly defines the process, timeline, and stakeholders needed to coordinate, create, and distribute that content.
With any content strategy, the main objective is to provide informative, relevant, engaging and consistent content to the right audience, at the right time. In today's digital age, content is at the core of every business, and strategy is needed to keep the messaging consistent.
When developing a content strategy, there are some key things to consider:
Who you're creating it for
How you will schedule and manage the creation and publication
The channels where it will be published
The formats you'll focus on
How it will be unique
The problem it's going to solve for that audience
Why Is It Important?
A business without a content strategy is like a plane without a rudder. They are moving forward without any direction or purpose.
Just posting anything on social media or publishing content without the target audience consideration is a total waste of time and will lead to brand confusion.
Having a clearly defined content strategy is of the utmost importance. It must specify the type of content to be created, who the target audience is, what goals are to be achieved, what channels to leverage, and who will be in charge of what. A content strategy will strategically guide a company's marketing efforts.
These days 90% of businesses are already using content marketing to generate inbound leads. So it's easy to assume that more content will result in more traffic to the website.
In a recent Hubspot study, it was revealed that companies that blog have 434% more indexed pages than businesses without blogs. This is because Google increases the page ranking as more content is published. No wonder 60% of marketers publish one piece of content every day.
The bottom line is that consumers want awesome content. In fact, 20% of the entire internet time is spent consuming content and 68% of customers prefer to read articles about the brands they're already interested in. Furthermore, 80% of users learn about brands through the content they publish.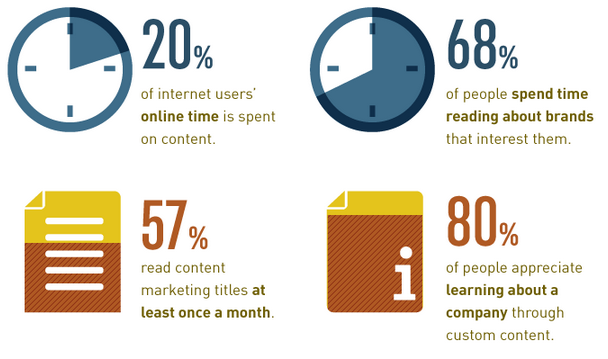 When considering all the above statistics, it's very easy to see why content marketing plays such an important role for businesses. Not only is it a very cost effective marketing method, but it also improves brand reputation by building trust, influences conversions, improves SEO and gives the businesses a competitive advantage.
Let's discuss the steps in creating a content marketing plan.
Content Marketing In 7 Steps
 #1. Define Goals
Before any strategy can be formulated, the goals must be defined. What is it that you're wanting to achieve? What's the aim of the content marketing plan? Are your key goals in line with our overall company objectives? Know your goals before you begin any content creation, as they will determine what content is best for the strategy.
The goals should be specific and measurable such as increasing online sales by 30%, gaining 200 Facebook fans or improving email subscriptions by 450.
Once the goals have been defined, they need to be prioritised and actioned.
#2. Create Customer Avatar
This is a very important step in the content strategy formation process. If the target audience has not been properly researched and defined, then any content created will be too generic and a flop.
It is essential to be clear about who the target audience is so that the right content can be created in order to reach that audience. This can be done by collecting demographic data, customer feedback and creating a buyer persona.
Customer demographic data can be collected via website analytics, social media analytics and email subscriber analytics. The main information variants needed are the age, gender, education and income. Google Analytics is a great tool for delving, even more, deeper into the customer analysis an gaining insight into the key interests.
Feedback is another great way to get to know the target customer. Asking for feedback is key in determining what people think about the current content, what their needs are and what challenges them the most.
Once all the above demographic and feedback data has been collected and analysed, then it is time to develop the customer avatar. An avatar is the true representation of the most ideal customer and content consumer, hence allowing for the detailed targeting of content.
To create an effective customer avatar, it must include the customers' pain points, challenges, sources of information and behavioural motivators.
When you know all this, you'll have a better understanding of:
The kind of content your audience will respond to
How it will help them
What will make them care about it
#3. Choose Content Channels
Before any content can be published, it's important to figure out where the target audience is most active, and where there is already a thriving online presence. The rule of thumb here is to look at what's already working and go from there.
The most precise what do this is to dive into the website analytics. In Google Analytics businesses can see the main social networks where content is being shared and focus their efforts there.
Buzzsumo is another good tool that can be used to find similar data as their systems allow businesses to search for most shares by network, content type and length.
Once all this information is collected, it's then much easier to decide which networks to target to get social media engagement and shares for the targeted content.
#4. Identify Content Types
Next, types of content need to be identified that the target audience will most likely respond to. It's crucial to be precise as the right content will deliver amazing results. Businesses need to know what their customer is looking for and what they need most. Do they read blog posts, watch videos, like how-to guides to case studies? Once the right content type is identified then no time needs to be wasted on the other less effective ones.
There are many selections of content types but here are some of the main formats to get started:
Blog posts
Blog posts are the most popular content format because they work! The main thing to remember with blog posts is that they should be published on a regular basis, provide informative and engaging content and be between 1,000 and 2,000 words long.
Ebooks
Ebooks are downloadable files that are a result of a lead form. They are usually longer, more detailed, and published less frequently than blog posts. Ebooks provide more in-depth information about a particular product or service.
Infographics
Infographics are great as they illustrate data in a much more creative way than just words. They are most effective when publishing statistical data.
Videos
Video content has been hailed as the content of the future. This is backed by statistics that show its exponential rise in the digital arena.
According to MWP, online videos are watched by 55 percent of people daily, WordStream says that 90 percent of Twitter videos are viewed through a mobile device and more than 10 million videos are watched on Snapchat daily.
Social Media
In today's day and age, most of humanity are using social media in one form or another. Nearly every aspect of our lives is affected. Social media is used in many ways on a frequent basis: networking, procrastinating, gossiping, sharing, educating, games etc.
71 percent of internet users are social network users and by next year, it is estimated that there will be around 2.77 billion social media users around the globe? That equates to a LOT of social media data gathered!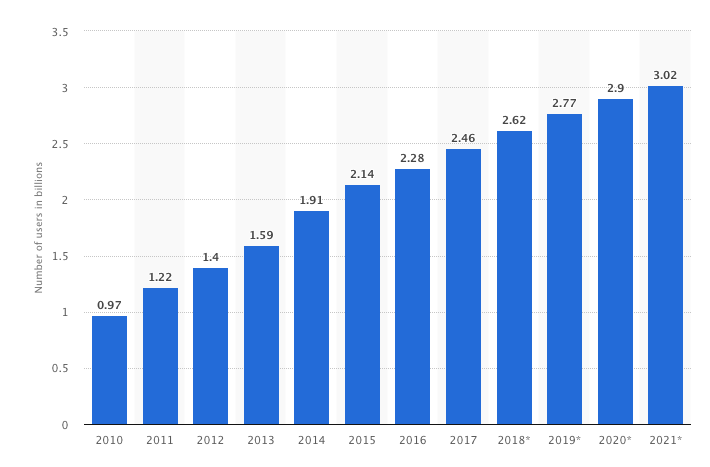 #5. Generate Content Ideas
Next up, it's time to lay out a visual plan of the content ideas. There are many tools that can help with this process such as: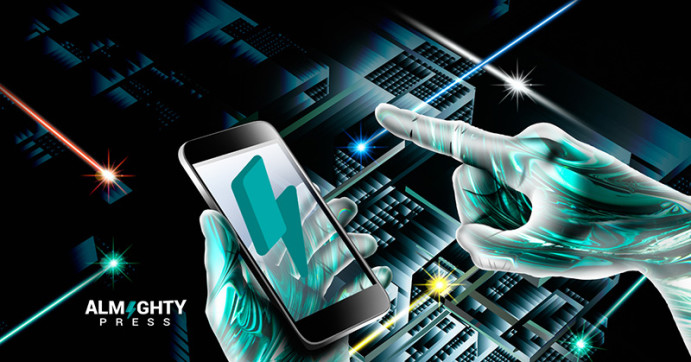 With so much content being uploaded on a daily basis, the competition for vitality is fierce. Most content marketers know that identifying potentially viral content manually is an almost impossible task.
This is where Almighty.Press can help as it's a content-discovery tool that focuses on the identification of pre-viral content.
This tool currently assesses and analyses over 2 million pages a day, and allows custom tracking of any website with an RSS feed. What's more, it has the ability to zoom in on content with viral potential in any user-defined vertical within 15 minutes of it being published. Almighty.Press's algorithms, called "Almighty Force," track, locate and curate pre-viral contents. It's like an "early warning" of viral content and is an incredibly useful tool for marketers.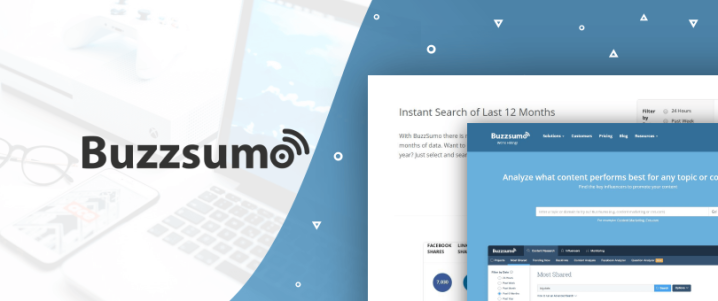 This is a great tool for discovering what piece of content is receiving the most 'buzz' in the digital space. BuzzSumo finds the highest ranking, most social and most influential content trending on the web that matches the user's search words. This is very helpful in discovering precise ways of targeting content, as well as knowing where to advertise based on relevant audience reach.
It's a great tool and the allows users to search for free for the first five times.
In all, this tool allows the following:
Content planning
Content sharing
Influencers search
Analysis of competitor's content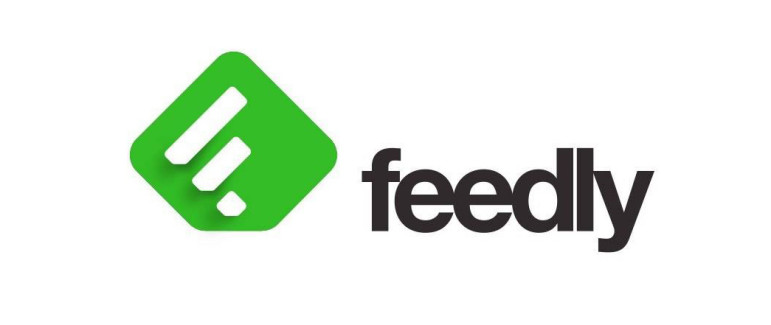 This RSS feed tool keeps track of all trending topics in a selected industry and simultaneously searches for content ideas. It allows businesses to collect and read content all on one platform. By subscribing to as many feeds as preferred, Feedly will organise all of the content in a simple and easily digestible portal.
#6. Create Content Calendar & Publish
This step of the content strategy is essential as it allows businesses to have their content organised in a neat structure for easy execution. Furthermore, it is important to know exactly when to publish the content and on which platform.
Most businesses will have an editorial calendar as well as a social media content calendar. The editorial calendar will be useful when publishing content on a website and the social media content calendar is used to manage content on social media channels.
A content calendar also helps plan out important dates such as holidays and celebrations. This allows for relevant and timely content to be published that resonates with a much larger audience, depending on the event itself.
#7. Measure Results
Whatever the measurement intervals are, it's never a good idea to leave any content without tracking the results. One common way to measure performance is via Google Analytics.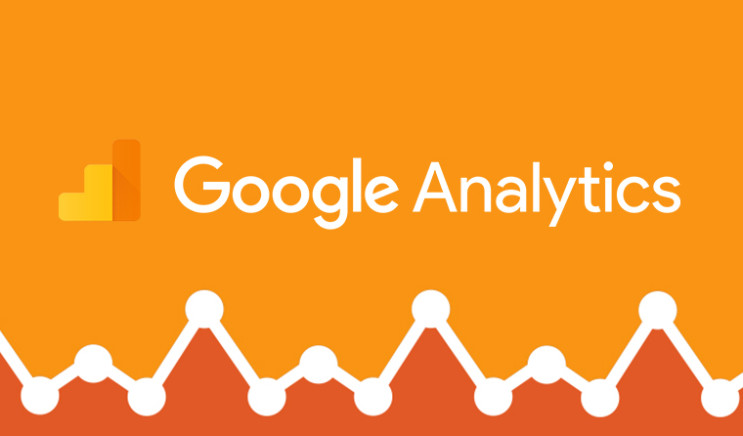 Through Google Analytics, businesses have the power to discover valuable content as well as customer insights such as purchase patterns, market trends and product preferences.
Specifically, analytics enables businesses to zoom into their data collected and look for the most relevant information and analyse it to make important business decisions. This has a transformative effect on business as it allows business managers and leaders to make decisions with detailed intelligence and insights available, often in real time.
Furthermore, Buzzsumo can be used to find the highest ranking, most social and most influential content trending on the web that matches the user's search words. This is very helpful in discovering precise ways of targeting content, as well as knowing where to advertise based on relevant audience reach.
Measuring and tracking allow businesses to analyse the results of the content marketing efforts and learn what's effective and what isn't.
Conclusion
It is clear that having a content marketing strategy is no longer a luxury but a necessity in today's fast paced and ever growing digital world.
Propelling every great brand is an abundance of valuable and relevant content that really resonates with the target market.
To discuss how the right content marketing strategy can bring the most benefits specifically for your business model as well as specific solutions I have developed, contact me today for a confidential discussion.