Have you ever heard the expression, "content is king"?
It can be said that this phrase is very apt considering that content is at the centre of marketing; it communicates to customers, clients and readers and fulfills business goals such as customer acquisition and /or retention, increase of brand awareness, and so on.
Propelling every great brand is an abundance of valuable and relevant content that really resonates with the target market.
But you may still be wondering, why is content marketing important?
In this post, I will share the reasons that illustrate the importance of content marketing, as well as the advantages that content marketing can provide to your business.
*Approx 12 minute read
Who Is This Post For?
Local business owners small to large
Multi-unit brands such as franchise groups, dealer networks and national brands with a local presence.
Commonly Asked Questions That I Will Address:
What is content marketing
Why is content marketing important
What are the reasons why content marketing is important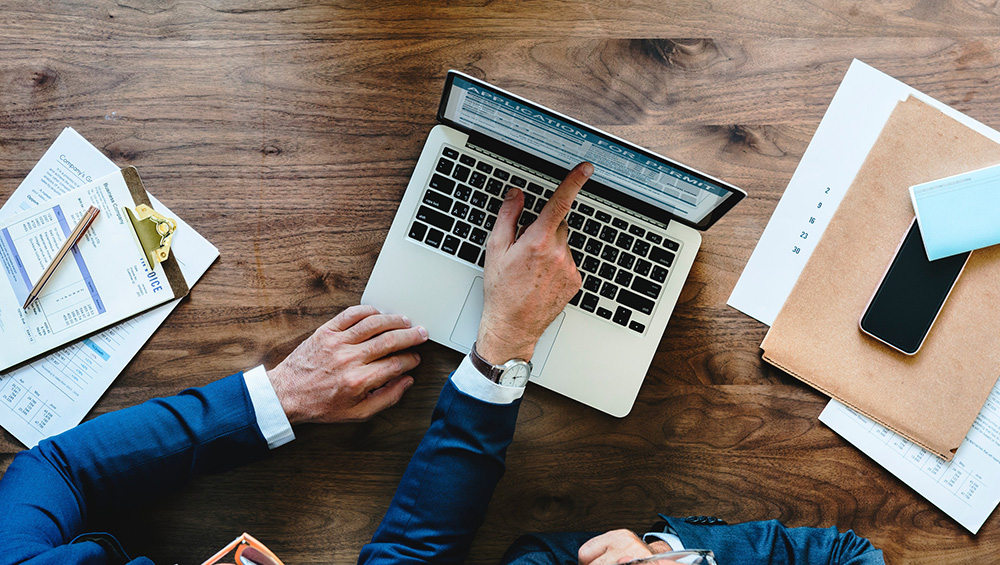 What Is It All About?
Content marketing involves promoting products and services through curated and shared content via platforms like blog posts, videos and social media. Wikipedia goes a step further as defines content marketing as a form of marketing that:
"attracts prospects and transforms prospects into customers by creating and sharing valuable free content. Content marketing helps companies create sustainable brand loyalty, provides valuable information to consumers, and creates a willingness to purchase products from the company in the future. This relatively new form of marketing does not involve direct sales. Instead, it builds trust and rapport with the audience."
Content marketing has certainly changed the way in which businesses connect with their target audience, especially in today's highly competitive digital age. With the social media boom, businesses have to find ways to become closer and more communicative with their customers if they want their loyalty and trust in return.
Why Is It Important?
Providing that your content is highly informative and engaging, this form of digital marketing has the potential to be very effective. The key is to publish content that places your franchise as an expert in the marketplace. When the content is good, the audience will be much more likely to want to learn more about the business and thus more willing to purchase product and services.
These days 90% of businesses are already using content marketing to generate inbound leads. So it's easy to assume that more content will result in more traffic to the website.
In a recent Hubspot study, it was revealed that companies that blog have 434% more indexed pages than businesses without blogs. This is because Google increases the page ranking as more content is published. No wonder 60% of marketers publish one piece of content every day.
The bottom line is that consumers want awesome content. In fact, 20% of the entire internet time is spent consuming content and 68% of customers prefer to read articles about the brands they're already interested in. Furthermore, 80% of users learn about brands through the content they publish.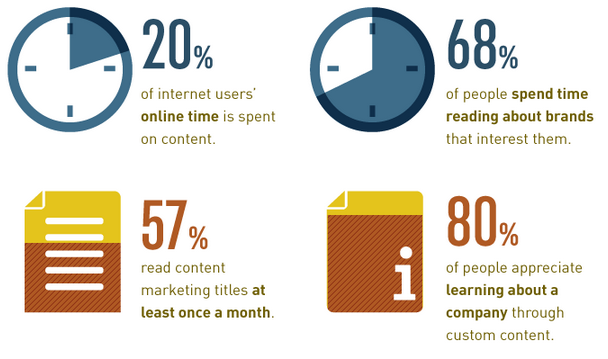 When considering all the above statistics, it's very easy to see why content marketing plays such an important role for businesses. Not only is it a very cost effective marketing method, but it also improves brand reputation by building trust, influences conversions, improves SEO and gives the businesses a competitive advantage.
This brings me to a very important point: Strategy. It is essential for businesses to have a solid content marketing strategy in place in order to utilise this great online marketing method. A good content marketing strategy will have the following:
Engaging, informative, relevant and personalised content
A frequent publishing schedule
Incorporating great keywords
Utilise images and graphics for better user engagement
Let's delve into some reasons why content marketing is important:
Reason #1. Purchase Power
According to a study done by Conductor, consumers are 131% more likely to buy from a brand immediately after they consume early-stage, educational content.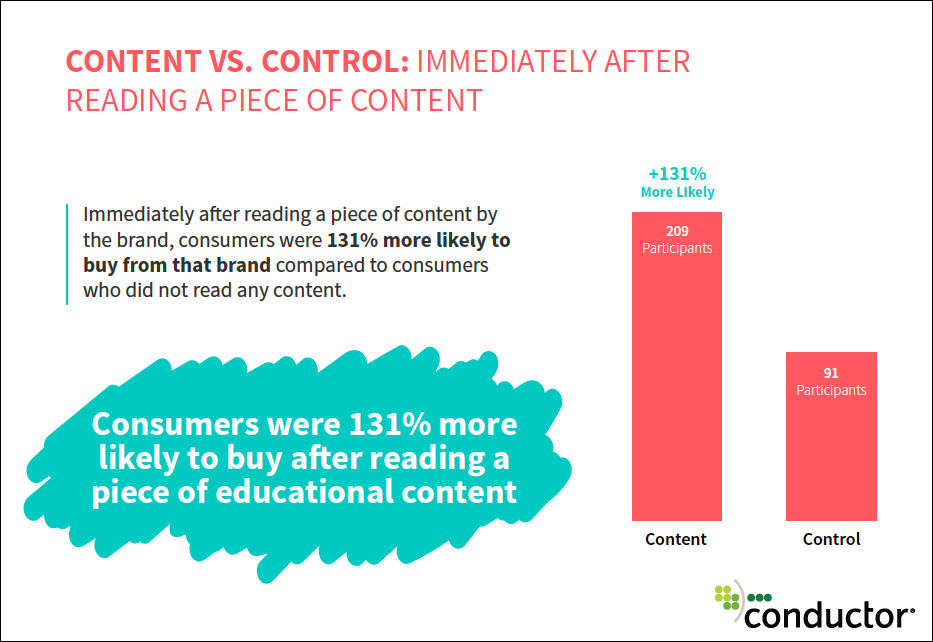 It is safe to say that the way consumers make purchases in today's digital age has changed dramatically. Purchase information is no longer obtained through sales people in stores and phone enquiries are dwindling as well.
Instead, consumers are increasingly turning to the internet to find a solution to their problem. These days consumers have access to all the information right at the finger tips.
This is what Google calls the 'Zero Moment of Truth', or ZMOT for short.
According to SiriusDecisions, 67% of the buying decision is made online before someone contacts a business for the first time. This is a significant statistic and solidified the notion that consumers research online before contacting any business for the first time.
What businesses need to be thinking about is – where and who are people getting their information from and how you can propel your content to the top of the search results.
   Reason #2. Trust and Loyalty
By having informative, relevant and entertaining content, businesses have the opportunity to build a greatly-connected community of customers who are loyal to the brand as they have chosen to follow it. What's more, by having a regular publishing schedule, the target audience will almost certainly consume that content giving businesses even more chance to sell their products.
Here's an informative statistic by Conductor: a week after reading the content, consumers actually found that brand more trustworthy and had a greater affinity than when they immediately read the content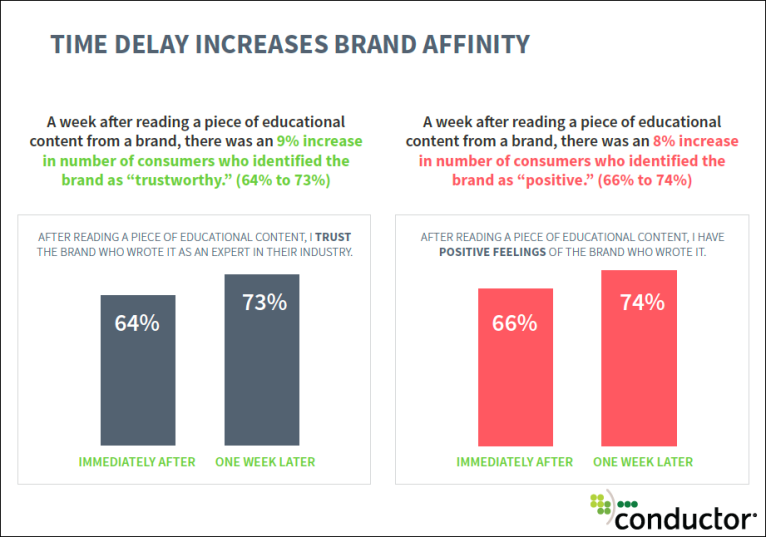 This means that when a consumer interacts with content, their brand affinity actually compounds with time, rather than diminishes.
Content creates a feeling of reciprocity immediately, and as time passes, that positive memory becomes idealised and the trust and relationship grow even when they are not in direct contact with the brand.
In today's crowded digital arena, it's essential that businesses work towards building trust with their target audience. The more qualitative the content is, the more perceived value it receives and in turn building trust with the customer.
Reason #3. Brand Authority
Being perceived as an authority in the market is important because it builds trust and trust is something that customers make purchasing decisions on.
Consumers feel safer knowing that they are in contact with experts who know the industry like the back of their hand. This is where content marketing really shines as it grants businesses the chance to establish its expertise in the field while providing educational and informative content that helps readers make a better purchasing decision.
Each time a piece of content is published businesses have the opportunity to show their followers and customers how much they know about the industry and the problems that can arise or are present. as well as the solutions for those. Thus, when consumers are ready to purchase they are much more likely to remember the brand that provided them with the information they needed to better understand their problems, solutions, and other options.
Reason #4. Build Relationships
With the help of social media, content marketing allows businesses to build a communications channel with their target market, in turn acquiring information about customers' needs and demographics and then using that data to customise marketing efforts and improve customer service. Content at its best can inspire discussion, allegiance, provoke thought and get everyone talking.
Returning customers are the sustenance of many if not all businesses. In fact, according to BIA Kelsey, 61% of SMBs say that half of their sales come from repeat customers. Furthermore, The National Law Review data shows that it can cost 5 times more to acquire new customers than it does to keep the current ones.
It's pretty clear that repeat customers are nothing but an advantage to your business. The relationship formed through content marketing drives sales-related action and results in repeat sales.
It is important to note that publishing quality content is a continuous cycle. It never stops. This means even after a prospect has converted to a customer, that conversion is still being provided with great content to start the relationship process.
The most effective content types for building brand relationships contain an ongoing variety of original and curated content covering topics relevant to the intended audience and delivered via:
blog posts or informational articles
videos
informational downloads, such as eBooks
infographics
social media activity
Reason #5. SEO Improvement
It's a fact: Good quality content is gold for search engine optimisation (SEO). A blog that's filled with quality and relevant content will most certainly have positive repercussions on SEO.
SEO plays a vital role in improving visibility for any businesses' online presence. So when the content is full of SEO keywords and is optimised, SEO will perform very well.
In a recent Hubspot study, it was revealed that companies that blog have 434% more indexed pages than businesses without blogs. This is because Google increases the page ranking as more content is published. No wonder 60% of marketers publish one piece of content every day.
In order to rank for more keywords, it is wise to publish content on different pages about various topics that are relevant to the target audience. This allows for more opportunities to rank for the keywords that these target users are searching for on the search engines.
Furthermore, the amount of content businesses have on the website is directly proportional to the number of repeat visitors.
The aim of Google is to show search results that are most relevant and helpful. This reality has to be integrated into content creation for SEO. People look for solutions to their problems.
Reason #6. Competitive Advantage
What better way for businesses to differentiate themselves from competitors than with quality content. This is one of the reasons why excellent content is so vital. It can be the difference between a consumer choosing a brand over a competitor's.
When customers search for certain products and find content that is thorough and helpful, they will be much more inclined to choose the brand that's provided them with the most expert knowledge.
Furthermore, content has the power to shape a brand's personality and voice. It allows businesses to set themselves apart from the competition by establishing the language, tone and information standard.
Thus, businesses need to develop a content marketing strategy that specifies how the brand will be portrayed and then create content that is in accordance with that portrayal and is unique to the business.
This leads to the important question: How you can businesses make content their competitive advantage? It's simple – Once a business is getting more visibility online through referral traffic, social media and ranking higher, then more customers will be acquired through the website than the competitors.
Conclusion
Even though content marketing is still being undervalued by many businesses, however, it is gaining fast traction in the digital arena. Propelling every great brand is an abundance of valuable and relevant content that really resonates with the target market.
To discuss how content marketing can bring the most benefits specifically for your business model as well as specific solutions I have developed, contact me today for a confidential discussion.