Having complete media solutions for your franchise business is more important than ever as social networking is fast becoming a way of life and the number of devices that people use is ever-inflating.
Nearly every aspect of our lives is affected by social media. It is used in many ways on a frequent basis: networking, procrastinating, gossiping, sharing, educating, games etc.
If your franchise business is lagging in the media solutions arena, then it is blocking its own path to success. As social media and big data continue to rise, it's critical that businesses look into and implement effective and suitable media solutions.
In this post, I will outline the elements of complete media solutions and how specifically multi-location businesses can benefit and generate successful campaigns.
*Approx 10 minute read
Who Is This Post For?
Local business owners small to large
Multi-unit brands such as franchise groups, dealer networks and national brands with a local presence.
Commonly Asked Questions that I will Address:
Why do businesses need a good digital marketing plan
What are the fundamentals of a digital marketing plan
What are the elements of the different social media channels
What is paid media and who should be managing it
Why is it important to know the target audience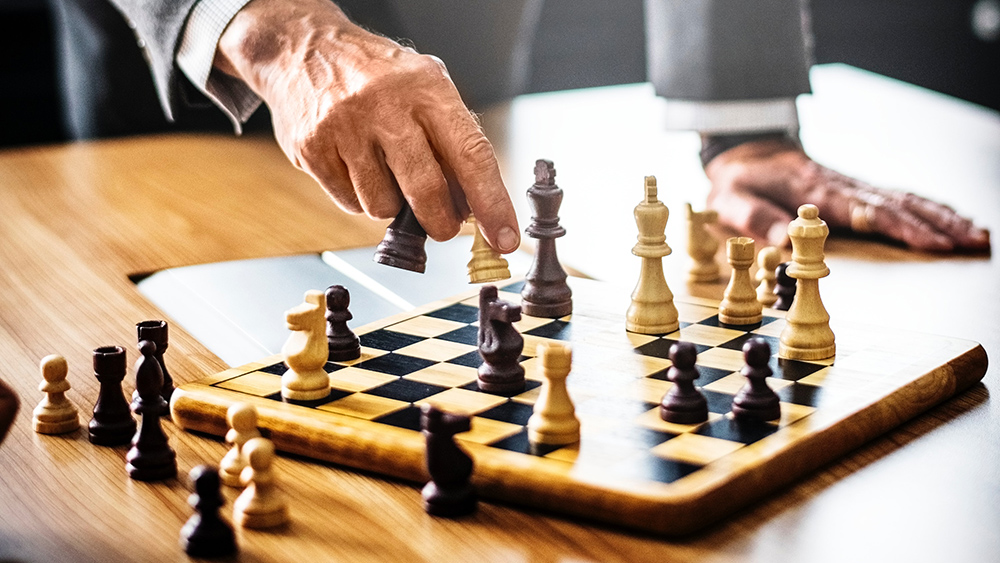 Complete Media Solutions for Franchise Groups
There are various media solutions out there for franchise groups; in fact, the sheer amount of choice can be overwhelming. It helps to start with the basics like having a digital marketing plan and a solid website. Here are the elements of complete media solutions and how it can help fuel great business growth.
Digital Marketing Plan
The base element of any media solution is a good digital marketing plan. In today's technologically advanced and socially orientated world, businesses, especially franchises really have to make sure they are prepared on all fronts. This means having a solid digital marketing plan as more and more customers come directly from online platforms.
Digital marketing can be a bit difficult to wrap your head around and that's why it's so important to craft an effective digital marketing plan.
Here are the fundamentals of a good digital marketing plan:
Website
Search Engine Optimisation (SEO)
Social Media
Paid Media
Let's discuss these in further detail:
Website
Dynamic and user friendly websites are a must. A well designed website will help customers find what they need and keep them coming back for more.
The way consumers are engaging with brands has shifted dramatically as more people will search online before making a visit and/or purchase. In fact, 40% of shoppers use a search engine to find a brand before they buy. No wonder Google's monthly searches are over 100 billion!
So how can you make sure your website is effective and delivering results? With these 3 steps:
Perform Website Audit
Do a website analysis of your current web design and look at the user experience. The website needs to be simple to read and navigate.
Reduce Load Time
Lagging load times have a direct effect on the user experience and can also hinder SEO efforts. Ensuring that all images or videos are condensed is essential to reducing load times.
Ensure Site is Mobile Friendly
A recent survey of mobile users found that 72% say it's important to them that websites are mobile-friendly and three-quarters said they are more likely to revisit a mobile-friendly site. This plays a crucial role if businesses want to remain competitive in the digital marketplace.
Search Engine Optimisation
The cornerstone of almost all digital marketing strategies is search engine optimisation (SEO). It utilises a lot of tools and methods used to increase the rankings of website search results.
Search engine optimisation is the "process of affecting the online visibility of a website in a web search engine's unpaid results—often referred to as "natural", "organic", or "earned" results.
Here are some golden rules to keep in mind when optimising:
Keywords
This is a vital part of the SEO process and involves researching, evaluating and choosing the most effective keywords to target in order to bring relevant traffic from search engines to your website. The Google Keyword Tool is great for this as it helps find search terms that are relevant to the business.
Content
All content on the website should be reflective of the above keywords selected. Be careful not to overload the content with the keywords, instead write good quality content that will be relevant, informative and entertaining to your customers.
Link Building
Link building involves getting other websites to link back to your website through engaging content. The way search engine algorithms work is they scan for the amount of content links that link back to the website and decide whether the site content should be ranked higher or not. By creating quality content that people opt to link to increases rankings.
In summary, by boosting the SEO, businesses rank better in search engine results for targeted terms in turn driving more traffic back to the website.
Social Media
Social media is one of the most cost-effective digital marketing elements which makes it a very lucrative marketing tool.
Many franchisees rely on platforms like Facebook, Google and Instagram to increase their customer base and keep them engaged. Franchisors, on the other hand, manage various promotions of products, services and events, all of which require a lot of supervision. Such factors need to be strategically conveyed and promoted to the target audience across your selected social media channels.
A good social media strategy encompasses clear business goals, identifies the target audience via an avatar and analyses competitors. From brand awareness to conversion, to boost your bottom line, it's time to get social.
There are various social platforms with very different functions and motives. Here is a guide of the most popular ones: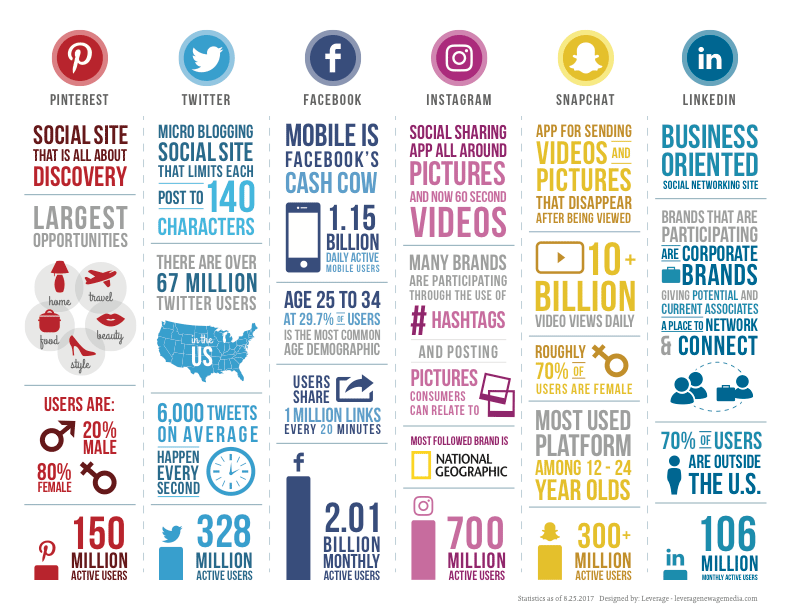 Source: leveragenewagemedia.com
Social Networks
Think: Facebook, LinkedIn and Twitter
Social networks have huge marketing potential and can be used as a database of future customers. Facebook is by far the biggest social media network on the Internet. 13 years after launching and less than five years after hitting 1 billion, Facebook now has 2 billion monthly active users.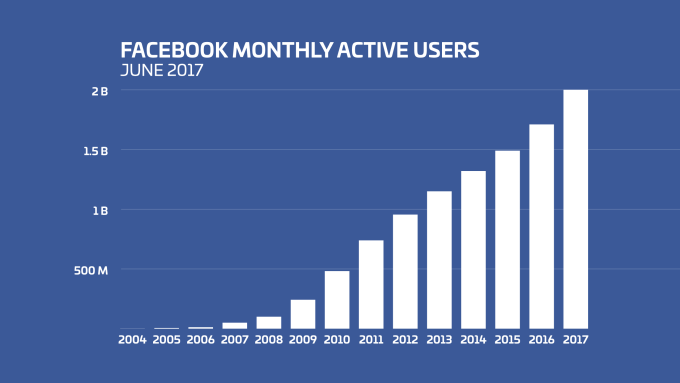 Media Sharing
Think: YouTube, Instagram and Snapchat
The popularity of video content has exploded in the last decade and so has the amount of media sharing social platforms. YouTube is the largest and most popular of them all. On a monthly basis it has over 1 billion website visitors and is the second most used search engine after Google.
According to by Statista, YouTube has 1.5 billion active users outperforming WhatsApp and Messenger.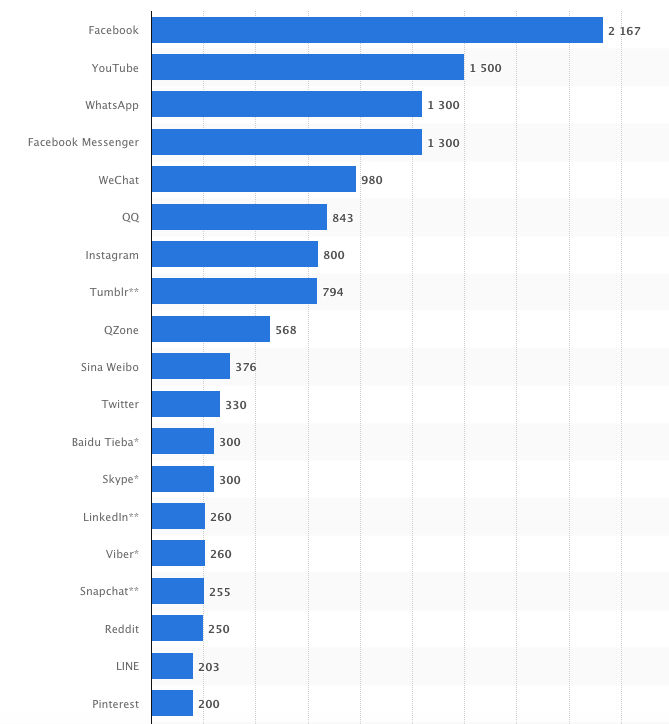 Discussion Forums
Think: Quora and Reddit
On this platform, users can discuss topics and share ideas with each other. Reddit especially has gained traction over the past few years.
What makes Reddit special is the level of anonymity that it's users enjoy.  This autonomous system makes Reddit a place where everyone speaks their mind and where popular opinions are voted up or down. Subsequently, submissions with the most positive votes appear in the top category or main page.
Content Creation
Think: Pinterest
This platform focuses on sharing content that helps the people create or save content. Pinterest is one of the babies of social media. It incorporates digital bulletin boards where businesses can pin their content to.  Currently, Pinterest has 200 million users and more than half of its visitors are women.
Reviews
Think: Trip Advisor and Yelp
Social proof, provided by peer-to-peer recommendations of products and services, is a powerful way to persuade your potential customers.
Reviews were bigger in 2015 than they were any year prior. In fact, they are becoming increasingly more important each year as consumers become savvier. Customer experience is the new marketing. Well maybe not new, but a return to grassroots in the form of digital. The importance of responding to customers could not be more prevalent.
Blogging
Think: Tumblr and WordPress
The term 'blog' is derived from "web log" and eventually becoming a "blog." Because blogs are updated frequently, they are great for marketing and search engines love new content making it a great search engine optimisation (SEO) tool.
WordPress started out as a blogging platform, but these days, it's a content management system (CMS). Tumblr, on the other hand is a multi-level blogging platform enabling different post formats, including quotes, chat, photo, video and audio posts. Like Twitter, re-blogging, which is more like retweeting, is quick and easy.
Paid Media
Paid media is as the name suggests – any platform or channel that businesses pay to gain the attention of the customer.
There is always the debate of whether individual franchises should manage their own paid media advertising or should the franchisor have the privilege.
In popular opinion, the most effective means to drive growth to both parties is to handle the paid media advertising from the Franchisor level. This way, the business can generate vast amounts of data and use it to make decisions on which products and services are successful and which are duds. It also prevents individuals from wasting their time and resources trying to do digital ads on their own.
Know Thy Customers
"A satisfied customer is the best business strategy of all." – Michael LeBoeuf
Knowing the customer plays a key role when selecting media solutions and the trick here is to be as precise as possible. For example, if a business determined their target market to be women that's quite broad. But what if they go a step further and create a customer avatar detailing the following, it becomes are much clearer picture:
Demographics – Age, Sex, Location & Income
Interests – Family, Hobbies
Most Used Social Network
Goals
Pain Points (that your business can solve)
Suddenly your target audience becomes a specific person – a married mother of 2 children that lives in Brisbane, is between 30 and 50 years of age, earns more than $65,000, mostly uses Instagram and has an interest in gardening.
Having a clearly defined target customer has a top-down effect as it allows businesses to choose the best media solution as well as social channels. Furthermore, it leads to producing content and posts that connect with the target audience on a much more personable level.
Conclusion
When implementing your selected social media solution, bear in mind that it is not necessary to have a presence on every social platform available simply because they exist. Instead, utilise your target market knowledge to help with the choice of social media platforms.
Begin by selecting 2-3 platforms and focus on getting the most out of each before expanding. Generally, the most popular social platforms for reaching and engaging customers are Facebook,  Instagram, Twitter and Youtube.
To discuss which media solution is most suitable for your business model as well as specific solutions I have developed for Franchise groups and multi-unit organisations, contact me today for a confidential discussion.