It is inevitable that consumers are talking about you and your brand online.
The vital question is: Are you effectively investing into your online reputation management?
If not, then it's high time to make an effort and take the reigns over your online reputation management.
Thanks to social media, social proof has gained steam over the past few of years, but in truth, it's been around for a quite a while in marketing.
Now adding smartphones into the equation has provided unparalleled access to the Internet with consumers spending most of their time on social media and online messaging platforms. This has enabled consumers the ability to publish, consume content, research, share and speak openly about their experiences with brands, products and services.
In this post, I will delve into the most important aspects on how to track and manage your reputation online.
*Approx 10 minute read
Who Is This Post For?
Local business owners small to large
Multi-unit brands such as franchise groups, dealer networks and national brands with a local presence.
Commonly Asked Questions That I Will Address:
Why looking out for mentions is vital
Why the need to create multiple social media accounts
How to manage online reviews
How to maintain consistency across social platforms
How to be aware online
Why staying human is so important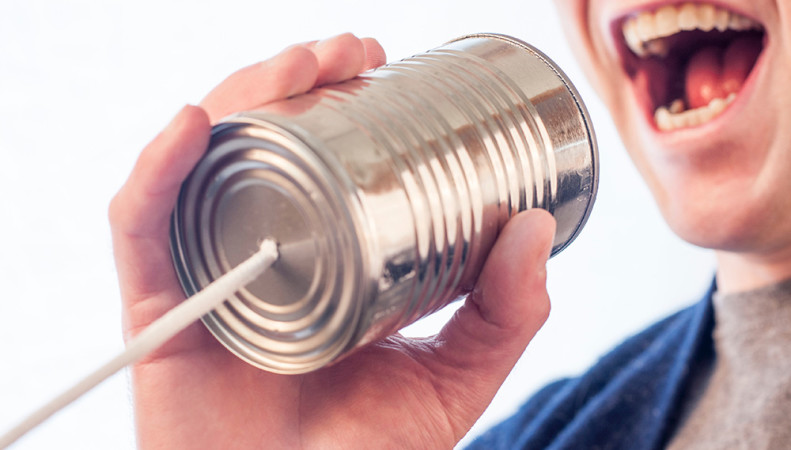 Online Reputation Management
As lines between the offline and online worlds get more and more blurry, a businesses' online reputation is becoming increasingly important. Before customers actually visit your business, it is almost certain that they have researched your business online and already formed an initial opinion. Thus, it is of the utmost importance that all online information be vigilantly handled especially because all online data can potentially become part of a permanent record. An online reputation will always be visible and present.
So here are some tips on managing your business online reputation:
Look Out For Mentions
Any time your business is mentioned on any platform, it needs to be monitored and responded to. What are consumers saying about your company and your products and services?
What's more, negative feedback has much more of an impact than positive feedback and if this is not dealt with in a short timeframe, it can negatively affect how people view your business.
Luckily, there are many useful tools available for businesses to effectively monitor their brand. Here are just a few:
With these tools, it is much easier to manage online comments and promptly deal with any potentially damaging connotations. If negative content about your business is brewing somewhere online, you can identify it and deal with it accordingly.
The key to effective online reputation management is acknowledging the mentions of your brand so you can minimise the negative comments and amplify the positive ones.
Learn more about Online Reviews Management here.
Create Social Media Accounts
Social media has become a huge contributor to online communications. With so many daily users, companies are bringing in more business as well as building better customer relationships by serving them on a more personable level.
Ambassador stated that 33% of customers would contact a business through social media than telephone and 71% will recommend a business providing they had a good experience with it on social media.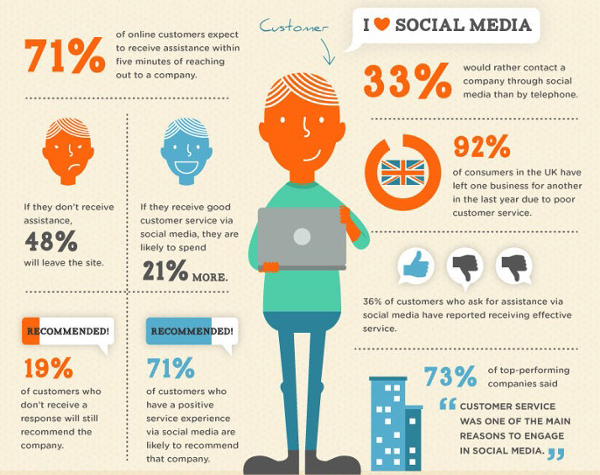 Source: getambassador.com
If that doesn't speak loudly, maybe this will. Here are some of the key takeaways in Smart Insight's 2018 Global Digital Report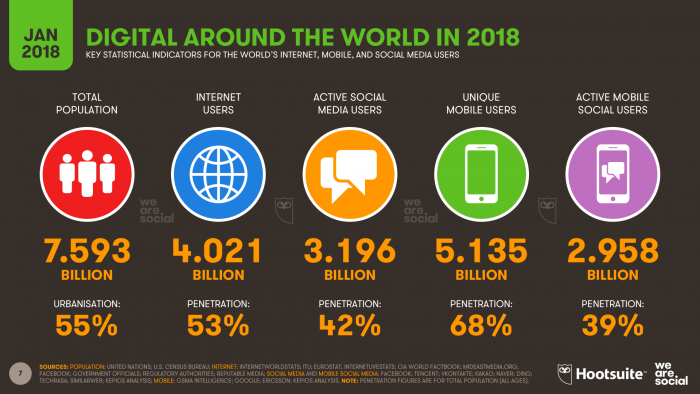 The number of internet users worldwide in 2018 is 4.021 billion, up 7% year-on-year
The number of social media users worldwide in 2018 is 3.196 billion, up 13% year-on-year
The number of mobile phone users in 2018 is 5.135 billion, up 4% year-on-year
These figures speak for themselves. Social media plays a huge role in today's business environment and needs to be monitored closely.
To be able to monitor any comments, a business first needs to be registered with a platform. It is strongly advised to register a business on all major social media platforms and secure the ownership of the business name on those sites.
Creating an account is free and gives businesses control of their branding and reputation on all social media channels. Here's a tip: make branding consistent across all social accounts.
Manage Online Reviews
Online reviews hold great power in the business reputation arena. Consumers words have the potential to become the social proof for future customers that research the business online.
Never fear negative reviews as they are potential opportunities for great customer service.
Why Online Reviews are Important
Customer feedback is the fastest way to learn about your weaknesses so you can improve
It helps brands innovate and serve customers better
It provides a level of transparency within an organisation for culture change especially when we are talking multi-unit. The leaders will prosper, the laggards will suffer. This can be used to rank individual units performance
Online reviews that are positive and published will help you increase sales and profits
Online reviews improve Google rankings (Think SEO)
Positive online reviews can increase Click Through rates by up to 69%.
Social proof, provided by peer-to-peer recommendations of products and services, is a powerful way to persuade your potential customers.
An important consideration when responding to reviews is to make it timely. Try and respond to all reviews, positive or negative within 24 hours. Positives you have more wiggle room for slower responses, but negative reviews you want to pounce on them within minutes or hours if possible.
Sound impossible? Think of the repercussions of ignoring negative reviews and pretending they don't exist. Not good for your brand, or your bottom line.
Don't have the internal resources to be on top of this all day every day? Thankfully this sort of thing can be outsourced to an agency or included as part of other services you may already be outsourcing, like social media management, website management etc.
Maintain Consistency Across Social Platforms
As mentioned before, social media networks play a very important role in developing as well as managing an online reputation.
And consistency is key! Consistency across all social media profiles is essential because it helps people discover and remember a brand and sends the message that it is reliable.
Brand Name
The brand name must be consistent across all social media channels as it will help propel brand identity. It is also important to do a social platform audit and find out whether there are currently any existing pages with the same brand name. If so, check with the platform in question as to how these pages can be removed.
Visual
It's important to keep a consistent overall look, tone and feel – which means placing an emphasis on the finer details of every single visual element that is communicated to the target audience. This can include the colour palette, fonts, any photography style and filters as well as a separate logo for social platforms.
Posting
A regularity posting schedule is essential. Depending on the individual business as well as the industry, the posting schedule can vary bit again, consistency is key. Businesses can work out their posting schedule over time by using the analytics function of the social media page in question.
Often what happens is that businesses will post content sporadically and as a result, the page can appear to be neglected which is not a good look for potential customers.
Voice
The business tone and voice should be clearly specified in the social media strategy and be tailored towards the target audience. So that every single piece of content that is published is is the same tone and follows a consistent voice.
In summary, stick to consistent colour schemes, logos, and layouts across all social media networks. Whilst simultaneously keeping the published content uniform and relevant to the target audience.
Furthermore, depending on the social network content will have to be customised for that particular channel's settings. For instance, if utilising Instagram, use the same filter for photos across all posts.
Be Aware
The online world is an unpredictive ocean teeming with constant change. So it goes without saying that staying abreast of all happenings is essential. One can never let their guard down.
Google Alerts is a great tool for tracking search terms for businesses to see if they or their products are being searched. Once a business set's up an account they will be notified immediately when a new search with their name or targeted term appears. This tool helps businesses discover and potential 'buzzes' around their brand and products.
Subsequently, it is also wise to set up separate emails as well as personal and professional profiles. Many social networks let people search users by email address or find users in their contact list (by email address). In fact, if you can, use separate everything for personal and professional accounts: separate phone numbers, separate names, etc.
Stay Human
Social media is about exactly that – being social. Avoid the pesky sales messages and show your customers that you are more than just about making a profit by humanising your brand.
Through social media companies build relationships with their target audience so make sure that all content that is published is appealing to that audience on a human level.
Timely and tailored personal responses to reviews are also super important. It is essential to show that you respond to positive as well as negative reviews with equal care and consideration and show your human side. Again, be consistent across all platforms.
If you don't have the time and resources to fully engage in all the channels your prospects use – posting on a consistent schedule, monitoring the channel, and responding in a timely way – then outsourcing to an agency is the best option moving forward.
Conclusion
Thanks largely to social media, everything that gets posted online, stays online and can have varying effects on a business' online reputation.
Thus, managing your business's reputation is pivotal. By following the tips outlined above, you can start developing the reputation you're looking for while maintaining credibility with your customers.
To discuss how your business reputation is fairing in this competitive online world as well as specific solutions I have developed for Franchise groups and multi-unit organisations, contact me today for a confidential discussion.