Founded in 1997 as a domain registrar based in Sydney Australia providing domain registration and hosting services at the core of its offering. With about 60 staff in 2012.
In 2012 NetRegistry engaged me to optimise their premium service offering (upsell services such as Google Adwords and Search Engine Optimisation). This was a 12 month engagement to help boost the value of the organisation to prepare for an exit.
The Challenge
In a highly competitive marketplace, organisations need to be ahead of the curve to continue to provide value to its customers. Due to a thin margin business model, a poor culture and outdated technology, NetRegistry had no real competitive advantage. The business was started at a time with no competition in a blue ocean. They failed to evolve and reinvest back into the company and more importantly failed to recognize the importance of culture and people at the time.
Thin Margins
Domains and hosting had very thin margins, especially with well optimised competitors like Godaddy gaining marketshare in Australia. Average customer value was $12/month x 300,000 customers approx.
Poor Customer Service
Company culture had been a focus, nor did employees really get the support they needed to thrive with a career path. This put a lot of pressure on the company by way of negative customer feedback.
Outdated Technology
With a clunky billing system, overcharges, and confusing invoicing most of customer support time was spent fixing what should never have been broken to begin with, had the right systems been put in place.
Low Value Proposition
Upsell services in 2012 like Adwords and SEO were a higher price point for NetRegistry but yielded little to no results for the 1,500 odd customers whom 80% were trying to exit their agreements.
Damaged Brand
Due to the challenges listed above, the brand was in rapid decline with most employees time spent arguing with customers. Senior leadership were not aware of the true cost to the business.
Financial Difficulties
Investor discussions took place in 2012. With existing loans and assets that had not been depreciated, an offer of $5Mil was presented but NetRegistry declined.
The Solution

Remove all products that offered little to no value. This meant letting go of over 1,000 premium customers (out of $1,500).

Create a new premium product offering that delivered measurable value to clients

Grow the premium customer base to 3,000 with a minimum spend of $1,200 per month. This would essentially double the value of the organisation in terms of revenue, setting a precedent to continue growing the premium services.

Partner with a professional sales team that understands how to sell value based marketing services for the premium upsells.
The Results
NetRegistry partnered with Yodel to sell to the existing database of 300,000
Upsold 3,000 customers to $1,200 per month minimum spend within 12 months.
NetRegistry demonstrates unrecognised, scalable value in the business and sells for $50.4 Mi to Melbourne IT in 2014.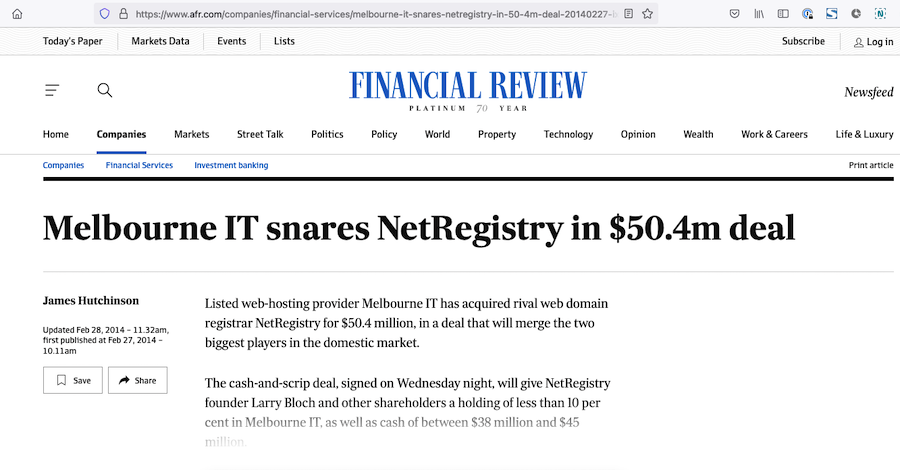 Want similar results for your business?
This case study is an example of the importance on knowing your business, the marketplace and the future of where the industry is going. The marketplace had evolved but the organisation did not, leaving them vulnerable.
Additionally they failed to recognise how valuable the right culture was (like a lot of the original IT companies from the 80s and 90s). The right people and culture would have solved a lot of these problems long before they became a real threat to the longevity of the business.
If you'd like to discuss how we could achieve a similar result to this then fill out the form adjacent.